José Mourinho and Antonio Conte do not like each other. You might have picked up on this fact over the past week or so, seeing as the two managers have been openly slamming each other in the media like a couple rappers going verse-for-verse in a freestyle battle. The resulting insults have been as petty as they are hilarious.
Let's start from the beginning. This all kicked off late last week when Mourinho was asked about a media report that claimed he was thinking about leaving Manchester United at the end of the season due to his disappointment at the club. Mourinho refuted this talk, stating in no uncertain terms that he planned on staying at United for a long time and that his commitment to the club was as unwavering as ever. It was while averring that commitment that he said the following:
"Because I don't behave as a clown on the touchline, it means that I lost my passion," said Mourinho.

"I prefer to behave the way I am doing it, much more mature, better for my team and myself, I don't think you have to behave like a crazy guy on the touchline to have that passion.

"That passion, you see it every day. The way a person is dedicated to his work, not what you do in front of the cameras."
It's pretty clear that, in context, Mourinho was drawing a contrast between the knee-sliding, fist-pumping, hootin'-and-hollerin' sideline antics of his younger days and the more subdued version of himself that exists now. However, it's not much of a stretch to believe he also meant that "clown" talk as a barb at the more demonstrative managers currently in the Premier League. A double entendre, or a subliminal diss, to use some rap lingo.
Indeed, many in the media saw Mourinho's words as specifically targeting Liverpool boss Jürgen Klopp and Chelsea manager Antonio Conte, two coaches known for losing their shit after a big goal or win. One reporter, framing Mourinho's words as a shot at Conte, asked the Italian to respond to Mourinho's comments, eliciting a juicy reply:
A transcript of Conte's answer:
"I think he has to see himself in the past - maybe he was speaking about himself in the past. Maybe, sometimes, I think that someone forgets what's said in the past, which is his behaviour.

"Sometimes I think there is, I don't know the [English] name, but demenza senile... when you forget what you do in the past."
G/O Media may get a commission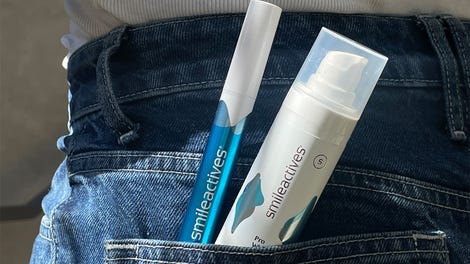 58% off
Whitening Powerhouse Pen & Gel Duo
"Demenza senile," as you could probably surmise, is Italian for senile dementia. As you can see in the video of Conte's response, at first he seems to be rejecting the popular interpretation of Mourinho's "clown" remarks, saying that Mourinho might've been talking about his own old behavior and not that of Conte's or Klopp's. But then he calls Mourinho senile and you realize that no, he's still not going to resist the chance to clap back.
Mourinho's second entry into the beef was a lot like Conte's. When asked about Conte calling him senile, Mourinho at first absolves Conte of any blame for the situation, accusing the media of twisting his words about the "clown" stuff and making Conte believe they were shots when they weren't. But, as did Conte, Mourinho closes his seemingly conciliatory remarks with a wallop, bringing up some old shit for no purpose other than embarrassing his brother in beef:
A partial transcript:
Look, I don't blame him. Honestly I don't blame him. I think the press should apologize to me and to him because the question that comes to him is completely wrong. And because of that you had that completely out of control reaction. But I don't blame him at all.

I was asked about my passion—and you know because most of you were in my press conference—I was speaking about myself. And then the question to the Chelsea manager was [as it] I [said] that he behaves like a clown. Probably the journalist wanted to say that [himself] but didn't have the courage to say that, so he [said] "Mourinho [said] you behave like a clown." So I don't blame the Chelsea manager at all, and I understand his reaction.

[...]

So, a wrong question [posed to Conte], and obviously a strong answer, but I don't blame him.

The only thing I want to say to end the story is that yes, I made mistakes in the past on the touchline. Yes, I will make less but I think I will still make a few. What never happened to me, and will never happen, is to be suspended for match-fixing. That never happened to me and will never happen.
For the uninitiated, Conte received a 10-month ban from coaching back in 2012 when he was manager of Serie A club Juventus in relation to a match fixing scandal that dated back a couple years earlier to when he was manager of Siena in Italy's second tier. Specifically, a Siena player of his who was heavily involved in match fixing claimed Conte knew about two instances in which Siena were instructed to intentionally lose or draw matches. In light of this player's testimony, Conte was banned from coaching for a time for failing to report the fix that he allegedly knew about. Conte (uh, quite strenuously) maintained his innocence throughout, saw one of the two charges dropped soon after the proceedings started, appealed his sentence and got it lightened to four months, and was ultimately cleared of any wrongdoing whatsoever when the investigation concluded.
Still, the stink of being implicated in the match fixing scandal has stuck with him to a certain degree, which would clearly be annoying to someone who had been found innocent. Hence Mourinho swinging below the belt by bringing it up. But hey, rap disses are filled with low blows, so we'll allow it.
Predictably, Conte dropped all pretense of civility after Mourinho's match fixing jibes and came out swinging—almost literally. In postgame remarks following Chelsea's F.A. Cup match against Norwich City, Conte repeatedly called Mourinho a "little man," a "fake," clarified that he meant to say Mourinho might be suffering from amnesia rather than dementia though still said Mou needs to watch out because his memory appears to be failing regularly, and not-so-subtly threatened to beat his ass when they see each other at the upcoming Chelsea-United match next month:
A transcript, from the Guardian:
"I think before you make this type of comment, before to hurt another person, you must pay great attention," Conte said of Mourinho, who had stated the previous day he had never been, and will never be, suspended for match-fixing.

"You show you are a little man. A little man. You don't know very well [what] is the situation. But I know him very well in the past. In the past he was a little man in many circumstances, is a little man in the present and for sure he will be a little man in the future.

"Also if he wants to try to change his behaviours … but the person's this, Mourinho's this. You know him very well. The level is very low. I repeat: I think before to speak you have to know very well what happened."

[...]

"This is not my problem, I consider him a little man," Conte repeated. "I consider him a man with a very low profile.

"There is a story to speak for him and for me. You can change the story, but you have to know the story very well before hurting another person. In the last period he's suffering a bit of amnesia. We are there, amnesia. When you become to be older, there is this type of risk. Also for me, and for you – for all. The problem is if you show this. He must pay great attention. He's doing this with regularity."

[...]

His evisceration of Mourinho did not end there and, without prompting, he raised what he saw as the two-faced treatment of Ranieri. "I remember a stupid example with Ranieri," he said. "When he offended Ranieri for his English. Then when Ranieri was sacked he put on a shirt for Ranieri. You are a fake. I think you have good consideration for a person or not. It doesn't change your opinion to be more sympathetic. If you want to fight a person, you try to kill this person. And then after two years you try to help this person, because maybe it's good for you, for your profile."

[...]

The rapid intensification of an enmity that has festered for some time could come to a head on 25 February, when Chelsea visit Old Trafford. "It will be the opportunity in the game against United when we go to Old Trafford," Conte said. "Me and him face to face. I'm ready. I don't know if he's ready."
Lots of people will be put off by the lack of professionalism both men have displayed during this extended war of words, but not us. We love this. We would prefer more managerial beef going forward, not less. Because while it's hard to weigh whether it's Mourinho or Conte who's ahead right now when it comes to judging this battle, what is clear is that the ultimate winner is all of us lovers of silly drama and egotistical pettiness.