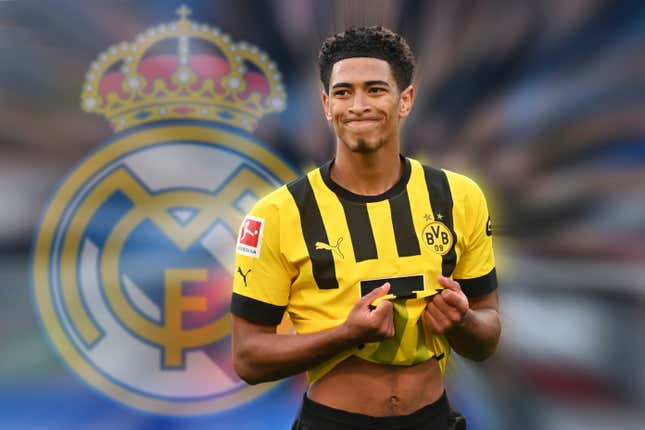 "The best players in the world must play for Real Madrid."
That was the policy not so long ago under president Florentino Perez when the La Liga club collected World Cup stars and the biggest names like it was a hobby, and Zinedine Zidane, both Ronaldos, Luis Figo, Luka Modrić, Toni Kroos, Gareth Bale, and a host of others came to the club. There were other big clubs out there, but only the ones whose names would live forever dressed in all-white in Spain's capital.
Can Liverpool Win The Quadruple? | What You Need To Know | FA Cup
That has cooled in recent years. Madrid are still the destination in most players' dreams, along with Barcelona, but Madrid have focused within, and with also buying players young that they can mold into club legends instead of just getting the finished article. Vinicius Jr. Éder Militão, Fede Valverde, Aurélien Tchouaméni, Eduardo Camavinga, Dani Carvahal, Rodrygo, Nacho, Dani Ceballos, and Marco Asensio are all players who have played over 1,000 minutes for Madrid this season that either came up through their system or were bought at a precious young age, around 20, to develop and hit their prime with Madrid. You could even throw Karim Benzema on the list if you want, as he was imported from Marseille when he was just 21. While Modrić and Kroos still drive the bus, and Benzema still is the main engine, they have a ton of companions.
Madrid look to be blending the two approaches with the news breaking today that they are on the verge of capturing Jude Bellingham, the most sought-after player on this summer's transfer market and one of the most sought-after in recent memory. Bellingham isn't the finished article yet, as he's still only 19. Which is also terrifying, because he's also one of the most complete midfielders in the world. There is nothing Bellingham can't do, as he can play in all three spots in a 4-3-3, be either part of the double pivot, or even moonlight as a #10 in a 4-2-3-1. He tackles, he dribbles past people, he has Dr. Strange-level vision, and he scores.
Bellingham can be a midfield onto himself, which makes it deflating for anyone who's not a Madridista, that he will combine with Tchouaméni, and Camavinga for the next decade. Madrid are clearly planning for their future without Modrić and Kroos, and a troika of Bellingham, Tchouaméni, and Camavinga look for all the world to be worthy heirs to that trophy-laden group.
It's also scary for everyone else that young players now see Madrid not only as a place where they can make a shit-ton of money and throw on maybe the most famous shirt in the world, but where they can play, and develop too. That wasn't previously the case as Madrid chased lustily after established stars, both for on-field and marketing matters, and lost out on players who were either buried on their bench or went somewhere else to get minutes.
But the whole market has shifted this way. It used to be that young players would be developed at the smaller clubs and then sold for larger sums of money to the aristocracy. The bigger clubs in the past decade have decided to skip that step and develop the promising players themselves, and Madrid have gotten to the head of that line. Part of the charm used to be in saving them a little cash, but seeing as how they're about to shell out somewhere around $160 million for Bellingham and last summer spent $88 million on Tchouaméni, the savings aren't there as much. What they do get though is a full decade before these players are out of their primes…unless they're Modrić-like, when they're never out of their prime.
It's also a funny juxtaposition on a couple of levels. One, Barcelona used to laugh at the legend-humping that Madrid used to do to catch them, and their Masia-produced core. And now it's Barca signing players like Robert Lewandowski or bringing back a close-to-shot Leo Messi for sentimentality (though Barca will point at the table and the league title they're about to win). Second, it was a surprise that Bellingham opted for Madrid instead of coming home to England, and Manchester City, where one is guaranteed to work with Pep Guardiola for at least a limited amount of time. Madrid can't even guarantee who will be manager next season, and their managers are never around for long.
But while Madrid have bitched and moaned and done their best to find ways to kneecap the new money of City and PSG, Madrid have something that those clubs can't buy. Perhaps it only takes time, but the very words "Real Madrid" mean something in soccer that you can't really quantify or describe. Be a star at City or PSG and you'll win a ton of trophies, you'll make a lot of money, and you'll be famous the world over. Be a star at Madrid though, and you walk with gods.
Bellingham has already moved to a foreign country to play, still something of a rarity for English players though becoming more common, so moving to another probably doesn't freak him out much. He probably couldn't resist the allure of being the torch-bearer for a new Madrid era instead of just another cog in the undying machine at City. Believe the whispers and it sounds like he'll be joined by Erling Haaland in the summer of 2024 to take over for Benzema, and to turn Madrid into the Death Star for a good long while.
City and PSG and their ilk may be the new money and powers. Madrid are everlasting.
Follow Sam on Twitter @Felsgate as he talks himself into the Europa League being fine.