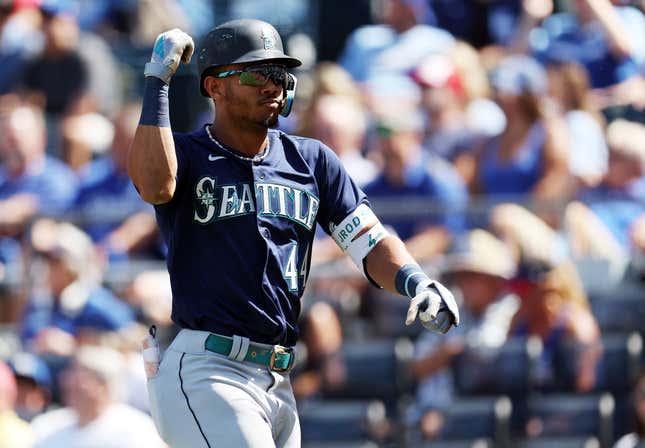 Baseball fans can lose track of the Mariners, all tucked away down there, pretty easily. They're on late at night, and they don't come with any of the glamor of some of the other West Coast teams. Though they entered this season as one of the more promising units after last year's exploits, a pretty wonky start had them decidedly amongst the rabble and faceless of the AL.

Dodgers World Series guarantee was trash! | Trash Talkin' Tuesday
While you weren't paying attention, unless your Sub Pop leanings keeps you focused on T-Mobile Park, the Mariners have been one of MLB's best teams since July 1, going 31-14 (only the Dodgers have been better) and vaulting themselves not only into the wildcard spots, but there's suddenly coffee-breath on the backs of the necks of both the Astros and Rangers in the West. And a good portion of that is due to one Julio Rodriguez.
As you may have heard, over the weekend Julio Rodriguez was never out, or just about as close to not being out as any player can get. Between last Wednesday and Saturday, Rodriguez went 17-for-22 against the Royals and Astros, all games the Mariners won. He wasn't just slapping singles together either, as he had three doubles, two homers, and five steals in that stretch. It was the best show going last week.
But it's only a small snippet of what he's been up to since July 1st. In the past seven weeks, Rodriguez has slashed .346/.395/.555 all while playing the best centerfielder in the game (+12 Outs Above Average according to Statcast). It's been something of a "come correct" stretch for Rodriguez, who has spent the entire season murdering the ball – 96th percentile in average exit velocity and 94th percentile in hard-hit percentage. Rodriguez's season-long stats are skewed by an awful June where he couldn't buy a bucket, with a .271 BABIP for a guy that should carry one much higher than thanks to his combo of power and speed. Rodriguez's approach hasn't changed much all season, he was just yet another pawn in the games of the fiendish BABIP gods for June, if not the first half of the season altogether.
That has violently changed of late, with Rodriguez especially pulverizing breaking pitches the past couple months (1.200 slugging on them). He has been the driver of the Mariners offense, which has been better but it's not a team-wide tour de force during the Ms stretch of brilliance. Eugenio Suarez and Cal Raleigh have somewhat come along for the ride. Though both strike out way too much (35 percent for each the last seven weeks), they've had the goodness of heart to at least homer when they do make contact (21 between them since July 1). JP Crawford was also scorching hot, though he's been on the IL the past couple weeks with a concussion (though could be back soon).
The Ms real strength, and will assuredly give them the label of "team no one wants to face in the playoffs." is that they have pitching coming out of their ears. Since the start of July, Luis Castillo, George Kirby, Logan Gilbert, and Bryce Miller all have ERAs under 3.50 and the first three have averaged over six innings per start. Which has kept a spicy bullpen fresh, and when this bullpen is fresh, it is oppressive. Of the six relievers to make more than 10 appearances since the start of July, only Taylor Saucedo has an ERA over 3.00, with no one else even over 2.50. The Mariners were so deep in the bullpen that they had no compunction about trading former Paul Sewald to the Diamondbacks for Dominic Canzone, who has also been above-average at the plate.
Andrés Muñoz strikes out everyone, and those who do somehow discover contact against him put it on the ground (68 percent groundball rate). Gabe Speier is pulling the same act with more Ks somehow, and Matt Brash is also impossible to make contact with. The Ms pulled Justin Topa out of the dumpster behind Miller Park over the winter, taught him how to throw a cutter along with his sinker, and he has a 0.84 ERA since July 1.
They've done all this without prized 2022 free agent and tight-pants enthusiast Robbie Ray, and how the Mariners could set up in the playoffs is still scary. It would likely see Bryan Woo shift back to the pen with his electric fastball that he can then max out on to join the six relievers the Ms already trust out there.
While anyone can get hot or cold in October, the overriding question for the Ms the rest of the season is can they hit enough. Rodriguez obviously isn't going to hit .773 the rest of the year (we think?). With Suarez, Raleigh, Mike Ford, Dylan Moore, and Hernandez in the lineup in some combo every day there's a ton of swing and miss. They don't need a ton of runs with that pitching, but they'll need some.
They can worry about that later, but their road to the playoffs looks like ya-ha time for the next little while. They'll kick off a stretch this week that sees them play the White Sox, Royals, and A's in what should be a comprehensive buffet of wins. They'd better eat there, because the season closes with 20 of 26 against the Rangers, Astros, Dodgers, and Rays. If they get to October through that they'll have earned it.
And should they get there, well…. Destiny can be another name for a ton of pitching and a star like Rodriguez.
---
Follow Sam on Twitter @Felsgate and on Bluesky @Felsgate.bsky.social