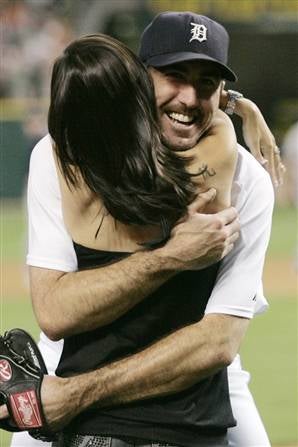 Notes from a day in baseball:
• No Hits For You! If there's one thing we know about baseball it's this: Seagulls can spot a no-hitter a mile away. The birds began congregating in the Comerica Park outfield around the third inning on Tuesday, and were certainly unmolested by any Milwaukee Brewer hits. There were just two fly balls after the first inning, in fact, during Justin Verlander's no-hitter in a 4-0 win for Detroit. And as we learn from the blog No Mas (via SportsbyBrooks), it was on June 12, 1880, that John Lee Richmond of the Worcester Ruby Legs, facing the Cleveland Blues, pitched the first perfect game in professional baseball history. Exactly 127 years later, Verlander throws the Tigers' first no-hitter since 1984. And while it's possible that Richmond received a victory hug similar to Verlander's, above, we're also quite certain that when Verlander reached down, he grabbed considerably less bustle. Verlander is the fifth pitcher in franchise history to throw a no-hitter — the first since Jack Morris in 1984, and first at home since Virgil Trucks in 1952, as if you forgot. "The most special moment of my life; being out there, having the fans support me," Verlander said. "Unbelievable." He had 12 strikeouts. And, hmm, is that a tattoo up there on the right shoulder? Let's go, sleuths!
• Good News For Your Fantasy Team. What? Oh, Sorry. Your first nine-game winner in the NL? Cole Hamels, folks. Chase Utley's four RBI helped the Phillies beat the White Sox 7-3, as Hamels improved to 9-2. Utley was 3-for-3 with a two-run homer as Philadelphia moved three games above .500 (34-31) with their sixth win in eight games.
• Getting Even. Never have so many pitches sunk so many times. In the end Chien-Ming Wang outdueled Brandon Webb as the Yankees beat the Diamondbacks 4-1. It was New York's seventh straight win and brought their record to 31-all.
• Doh! Doh! Doh! It was that kind of a night for John Maine. Wilson Betemit, Matt Kemp, and winning pitcher Hong Chih Kuo homered on three consecutive pitches as the Dodgers beat the Mets 4-1. It was New York's eighth loss in nine games.
• Let It Reign. Our continuing Seattle Mariners coverage now takes you to Wrigley Field, where Willie Bloomquist singled in the go-ahead run with two out in the 13th in Seattle's 5-3 win over the Cubs. It was the Mariners' fifth straihgt win; all coming on their final at-bat.