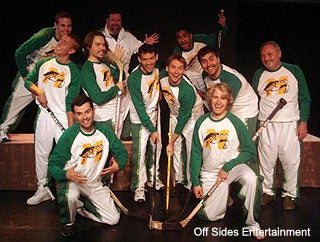 Say what you will about former Deadspin hockey wonk, Greg Wyshynski, but the man always seems to find some sort of tie-ins between hockey and homosexuality. This week, Puck Daddy delves into the motivation for "Hockey: The Musical!", which is having its big bawdy debut at the Toronto Fringe Festival. Here's the plot:
The Minnesota Turtles are one of the best teams in the United Hockey League, and their All Stars Pavel Riccardino and Ravi Patel are rapidly propelling their team toward the playoffs. However, on the heels of Riccardino's celebratory scoring of his first career hat trick, scandal hits him, challenging his very identity. Relationships with his teammates
become strained, testing the team's loyalty to him, to one another, and to the game they all love. In the age of the Internet, information travels faster than a speeding puck. How can athletes maintain their lives, relationships, and dignity when the media spins "truths" which shape and alter who they are and who they are perceived to be? What is the price of an athlete's fame and the cost of keeping his truths secret?
And then they sing and dance and all that stuff. It's like Ice Capades, but less manly. Tip your hats to Wyshynski for being able to play this story so...straight.
Happy Canada Day everyone.
Exploring Sexual Sports Taboos Through" Hockey:The Musical!" [Puck Daddy]