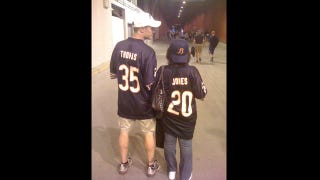 Spotted, last night at Soldier Field, a couple whose love is built on a foundation of middling former Bears running backs.
Tipster Michael writes in,

From the Bears/Bills preseason game last night. The ungodly confluence of a guy in an Anthony Thomas Jersey walking next to a woman in a Thomas Jones jersey. It is...THOMAS_JONES.

They musta done their jersey shopping at the dollar store. Seriously.
You guys realize Matt Forte is good, right? Nothing wrong with a Matt Forte jersey.
*******
Thank you for your continued support of Jim Beam Devil's Cut Comedyspin. Tomorrow's a whole new week. Get ready—it's gonna be a good one.