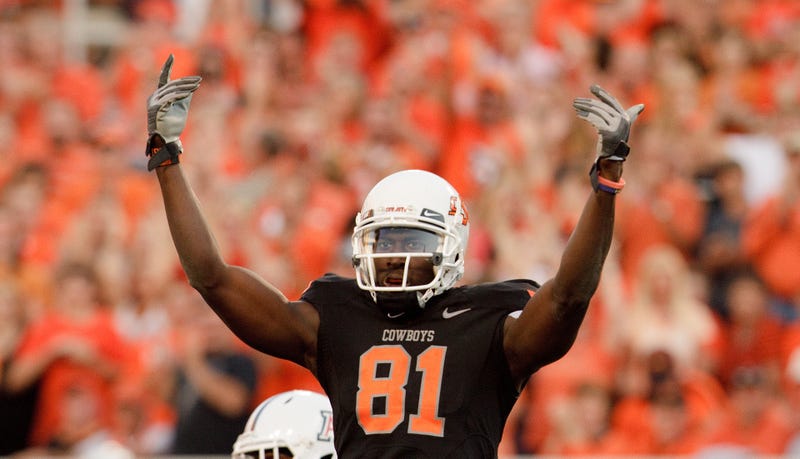 Every morning, the fine folks at Sports Radio Interviews sift through the a.m. drive-time chatter to bring you the best interviews with coaches, players, and personalities across the sports landscape. Today: enjoy Blaine Gabbert's underthows, sucker.
Justin Blackmon joined 790 The Zone in Atlanta with Arch and Bell to discuss his decision to leave school early, the Fiesta Bowl, playing for Mike Gundy, what the combine will be like, what quarterbacks he'd like to play for, the training leading up to the draft, why he's not looking back on his career, if the deaths within the Oklahoma State family affected the team in the loss to Iowa State and how his team would've matched up with LSU or Alabama.
How tough was the decision to leave Oklahoma State?:
"It's very tough. I've enjoyed my time here; Oklahoma State's been real good to me. But I just feel like it's time for me to see what's in store for me at the next level."
Did you feel like you were in a zone during the Fiesta Bowl where you could do anything you wanted?:
"I wouldn't say that. I was in a zone and I was really locked in, just happened to be really locked in that game and everything seemed to be working my way."
How intense is Mike Gundy as a coach?:
"He's a great head coach. He's a player's coach. He's going to sit there and back you like you're one of his own kids. He'll take care of you, he's a player's coach and I've enjoyed playing for him."
What will you do now leading up to the draft in terms of workouts and combines?:
"I think I will be [doing all of the stuff at the combine]. As it gets closer, I'll know for sure. I've just been enjoying the time working out. I've started working out and am trying to stay focused and get in the best shape I can before the combine."
If you could pick an ideal team to be drafted by, who would it be?:
"Any team that would [draft] me. Obviously a team that had a quarterback and somebody that could kind of balance out the offense."
Is there a quarterback out there that you see and really want to play with?:
"There's a lot of guys. Like you said, Drew Brees and Aaron Rodgers. If Peyton comes back, you've got him there. There's a lot of great quarterbacks that I wouldn't mind being out there and playing with."
What other kind of training will you be doing?:
"Just a lot of things, working on explosiveness, route-running, coming in and out of breaks, quickness, changing directions. There's a lot of things I feel like I can work on and try to get better at in this short time."
Do you go back through your college career and critique yourself?:
"No, I mean, I kind of put all that in the past. To me, it's ground zero and how can I get better? It's not looking at my numbers. I'm not going to be satisfied. I try to forget about it, the good and the bad, and just try to improve every day."
Did the outside factor of the deaths of the women's basketball coaches play a role in the loss to Iowa State?:
"It affected us. That's something hard to try and forget about and try to go out there. You can't go out there and play that game without having it in the back of your head. It was a weird day for us, a very quiet day, nobody was really that vocal. But we don't use that as an excuse. They came out and played and ended up finishing the game."
How do you think you guys would have done against LSU or Alabama?:
"I think we would've matched up well playing against either. It would have been nice to see our receiving corps against the DBs of LSU or even the Alabama DBs. It would've been nice to just see how we would've matched up against them."
This post, written by Eric Schmoldt, appears courtesy of Sports Radio Interviews. For the complete highlights of the interview, as well as audio, click here.
More from Sports Radio Interviews
• Tom Thibodeau says it's Carlos Boozer's fault whenever the defense breaks down.
• Gina Carano is an actress, not a fighter.
• Carlos Rogers calls Jim Harbaugh a blessing.