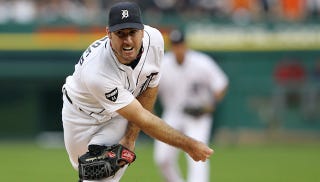 Your roundup of all the hottest hot-stove items of the day (and whatever shit Ken Rosenthal is throwing against the wall). This is ... HOT FUCKING STOVE!!!
• Justin Verlander is the is the 2011 AL MVP. Now get ready for 4 months of debates over what "most valuable" really means.
• The Rockies traded Ty Wigginton to Philadelphia to make room for this guy.
• The Marlins think Albert Pujols may be older than we've been led to believe. Hmm. Wasn't that the same reason he fell so far in the draft way back when?
• The Yankees and Red Sox appear to be getting closer to talking themselves into Roy Oswalt and his assorted back ailments.
• The Reds are the first team to be linked to Oakland closer Andrew Bailey.
• Ken Rosenthal throws some shit against the wall.
• Jonathan Broxton is shockingly popular on the free agent market, elbow surgery and last season's 5.68 ERA and all.