The thing to understand about American swimmer Katie Ledecky is that she is an athlete without opponents. There may be other swimmers in the water with her whenever she participates in a race, but the only person capable of beating Ledecky is past versions of herself.
If you've been keeping up on Ledecky's career since she won gold in the 800-meter freestyle in 2012, last night's world-record smashing performance in the 400-meter freestyle wasn't a huge shock. Since the London games, Ledecky's been busy reshaping the sport of women's swimming. She owns the world record in the 400, 800, and 1,500 meter freestyle races, and since 2013 she's been breaking and re-breaking those records at a rate that's made her completely untouchable.
She claimed the 800 world record at the World Championships in 2013, and has re-broken it three times since then, lowering her time by just over six seconds in the process. What she's done to the 1,500, a race that wasn't included in this year's Olympics, is even more absurd. She also set the world record in that race at the Worlds Championships in 2013, and has since shaved 11 seconds off her time while re-breaking the record on four occasions.
Which brings us to last night's race in the 400, another event that has been firmly in Ledecky's grip since 2014. She claimed the world record in the 400 at the USA Championships in 2014, and then broke it again a few weeks later at the Pan Pacific Championships. Since then, however, the record has stood against Ledecky's repeated assaults in the two years leading up to these Olympics. And so the question of whether Ledecky's 2014 record would survive the night was the only real source of drama heading into last night's race:
Ledecky finally got over the hump, breaking her previous world record by nearly two seconds. She had her back to the wall and was celebrating while the rest of the field was still in the final stretch.
G/O Media may get a commission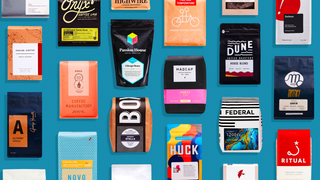 Get $25 free
Trade Coffee - National Coffee Day
"Everyone wants to swim their best at the Olympics," Ledecky said afterwards. I was just trying to set a [personal] best time, and for me that just happens to be a world record."
Ledecky will swim in the 800-meter freestyle and 200-meter freestyle events later this week. Nobody will touch her in the 800, and the only thing that could prevent her from setting another world record is all the seconds she's already shaved off her time since 2013. Swedish sprinter Sarah Sjöström might give her a fight in the 200, but Ledecky beat her by more than a full second when the two met in that race at a grand-prix event last January.
These Olympics are going to feel like a coming-out party for Ledecky, but when you watch her dust the field by multiple lengths in the 800 this week, remember that she's been doing this for years now. Katie Ledecky has owned women's swimming since 2013, and her talents are as singular as they come.