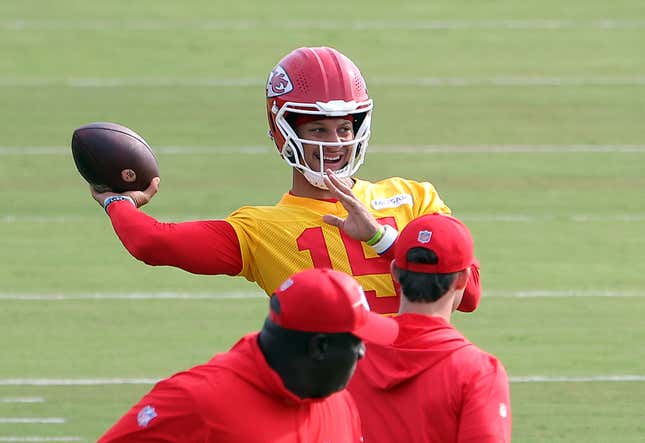 Unfortunately, most of us didn't get to watch the NFL top 100 program this year. The NFL's two minute warning that the season is about to begin was shown only on NFL+, which is still not a strong enough reason to add $79.99 to my yearly expenses. The result of the paywall restricted program this year is the completion of the year of Patrick Mahomes. He was voted the No. 1 player in the league by his peers.
Minshew on Aaron Rodgers' level? Really? | Stats That Will Blow Your Mind
Awards on awards
Just like his NFL MVP and Super Bowl Championship, it is an honor that Mahomes has won before. However, each of those honors he had received in separate years. This year, he won everything. If an NFL award was out there for the taking he lassoed it. On top of those three honors he was also named first-team All Pro, a Pro Bowler, and MVP of the Super Bowl. Whether in Tyler, Texas, Kansas City, Arizona, or Disney World, Mahomes was the man over the last 12 months
At this time last year there were doubters of Mahomes. The ability of a player who had played in the AFC Championship Game every season that he was a starter, and completed a pass behind his back in a regular-season game, was being questioned.
Being that Mahomes is Black quarterback, no matter how many amazing plays that he makes, and regardless of who his mother is, at some point he was going to be criticized. He deserved some after his brutal second half against the Cincinnati Bengals in a lost AFC Championship Game, but bad games happen to even the best players. Tom Brady put up some rough playoff performances in the 10 years between his third and fourth Super Bowl championship — and was nowhere near as good a QB as Mahomes for those first three.
For an anonymous defensive coordinator to say last summer that Mahomes played "streetball" though — is this commentary about a quarterback in 2023 or a NBA player in 1976 after the merger with the ABA? The fact that he can execute some of the movements from the NFL Street video game makes him fun to watch, but in no way is he on NFL football fields flinging the ball around like it's recess.
Mahomes is the most dangerous guy in the league
He has been the most dangerous weapon in football since arguably the second week of the 2018 season when he threw six touchdown passes against the Pittsburgh Steelers, no interceptions and only five incompletions. The first four weeks of that season he completed 65.2 percent of his passes for 1,200 yards, 14 touchdowns, and no interceptions. That is a pace that was in no way sustainable.
One Super Bowl championship — two appearances in the big game — later and the question was asked if the league had caught up to the greatest to ever throw a football. There should have been a national drinking game around the phrase "two-high safety."
Since the sporting world was not properly appreciating the fact that they were watching the football equivalent of Michael Jordan from 1986-92, Mahomes went 1991 MJ on everybody. The only thing missing was an NBC Special Presentation in his honor. Mahomes even went to 30s Jordan and had a "Flu Game" performance for 10 quarters when he hobbled through playoff football on a high ankle sprain to make sure that his team secured the championship.
Mahomes smoked his competitors and critics, basted them in a mix of Texas and Kansas City barbecue sauce, and picked the remnants from his teeth at the Super Bowl parade. Forget a statement game, the best player in the league had a statement season. His peers should even be ashamed of voting him as the eighth best player in the Top 100 last season.
The NFL is Mahomes' world, and the last signature on the deed has come from those whom he plays against. Too bad most of us didn't get to see it though.