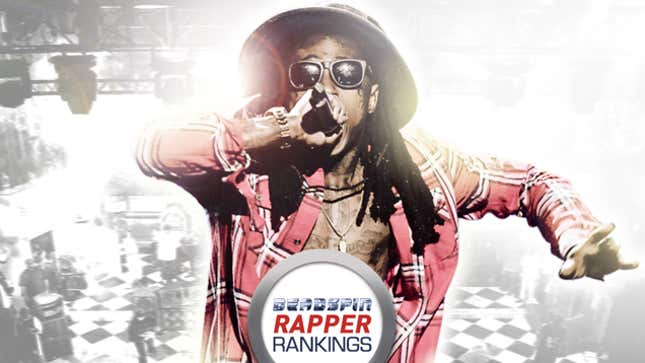 We had to make a rule: You can't use the Falcons. That's as close as you could get to cheating without actually cheating, because He was on the Falcons, and He was ... fast doesn't begin to describe what Michael Vick was in Madden 2004. He had a speed rating of 95, earned after a few years spent making real-life NFL defenses look confused and hapless the moment he left the pocket. In the video game, it looked like Vick had taken a PCP and GHB cocktail, and the opposing defense was a middling Pop Warner team. It was that bad. It was that glorious.
Madden ratings (ranked 0 to the ultra-rare 100, though anything below the mid-70s is pretty awful) have always been of the utmost importance. Each year, millions of people buy the game's newest iteration and find out how close the previous year's breakout stars have gotten to a 99 overall rating. Rookies, too: It's imperative that we know whether or not Johnny Manziel has that "get away from the cops speed." This is why you nonchalantly slide all the individual skill ratings—there are an impressive 43 attributes for each player, ranging from "speed" to "pass blocking," in Madden 15—as far to the right as possible when creating a new one.
So, why not apply this formula to something every bit as arbitrary and paramount as our virtual QBs and DBs? Like, say, rappers?
After all, it's never enough to argue whether an emcee is "good" or not—what you need is a holistic assessment of his or her entire skill set. Charisma and stage presence are just as important as musicianship, while a sartorial eye and a sense of humor can help widen someone's appeal.
And so, I will now play Rap Game NFL Scout and apply the Madden System to today's biggest rappers. The categories are as follows: Overall (OVR), Charisma (CHR), Stage Presence: (STP), Beat Selection (BEA), Persona (PER), Lyrics (LYR), Discography (DSC), Humor (HMR), Fashion (FSH), Versatility (VST), Creativity (CRT), Hooks (HKS), Record Sales (RCS), and Longevity (LNG).
Here are my findings.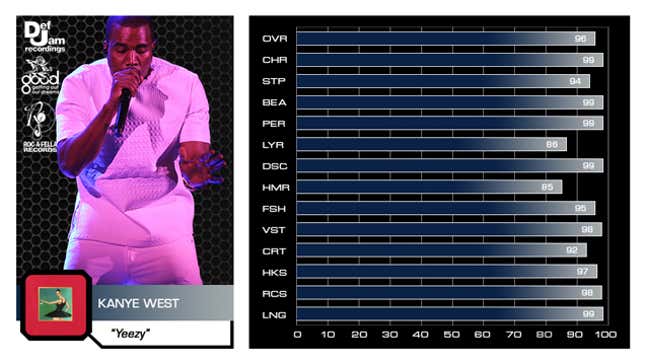 Scouting Report: Kanye, light of our life, fire of our loins. The greatest pop star of our generation. Sure, his lyrical acumen has waned since the popped-collar-polo days of The College Dropout. ("I be speakin' Swaghili?" Get the fuck out of here.) But who is a more complete artist than 'Ye? Who pushes more boundaries or demands higher-quality product at all times? Hip-hop conservatives, in all of their tinfoil-fitted-cap glory, idealize his early soul-sampling days because they live on a planet in which going full Quincy Jones (or going full heel) means being a sellout or something. If it weren't for the fact that he sometimes forgets his own lyrics, he'd be a perfect performer; regardless, in terms of both entertainment value and rant potential, he makes other rap shows look like open-mic nights. Here's to hoping the paparazzi drones don't drive him completely batshit, because Yeezy Season is still the most wonderful time of the year.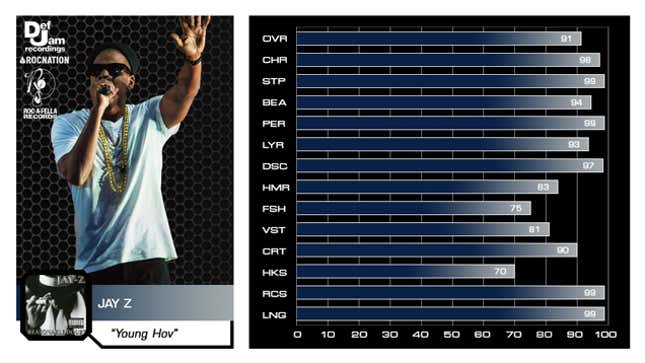 Scouting Report: One thing that's always fascinated me about rap culture is how much the peanut gallery hates the olds. Somehow, someway, it's just accepted that Jay Z fell off and will stay off. Youth is aggressively fetishized in our culture, but rap is the only writer's medium where people don't expect your words to get better with age. Whereas, it's a plausible train of thought that Jay's best days are ahead of him; he's certainly got enough to talk about lately. Though Hova can own hold a stage with Sinatra-esque suaveness and rap about pretty much anything exceedingly well, his hooks are his major downfall: His best one ever is a a bunch of curse words, and 90 percent of the rest is just filler between verses.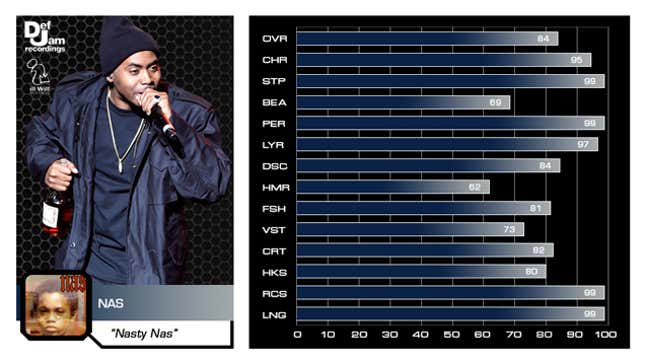 Scouting Report: Right out of the gate, Nas released one of the greatest albums of all time; you can also make a convincing case that It Was Written is just as good, if not better. But most of his discography since is lukewarm, with only a few great songs here and there; Jay Z himself once pointed this out. But Nasir Jones' main pitfall is that he has the worst beat selection out of any mainstream rap artist: I've heard better stuff on mixtapes handed to me outside of a mall. Also, let's settle the score: Nas did not beat Jay in their little beef. You can't win a battle of words by calling a dude "faggot" for five minutes. (Hence the humor rating.) That only works in frat houses and middle schools.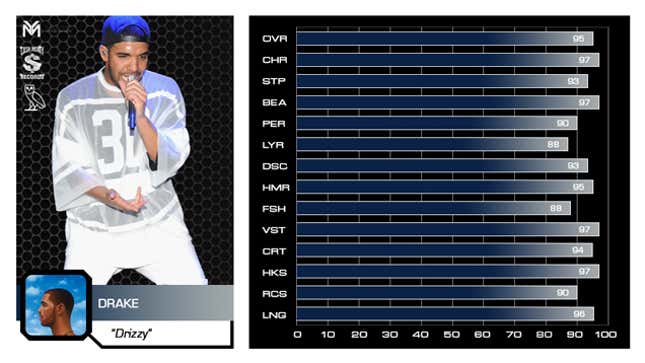 Scouting Report: Where does Drake stand in hip-hop right now? In truth, he levitates. He has ascended to the heavens, where he's been eating baked vegan goods and sipping merlot on fresh-linen-scented clouds as trap remixes of Aaliyah songs play at a respectable volume. Aubrey Graham is a Rap God, whether you like it or not—his loosies are better than some of his adversaries' whole discographies. He is also the creator of the Drake Bump, which gives rappers bubbling on the cusp of stardom your full attention, and could legitimately make even Bangs a festival staple for years to come.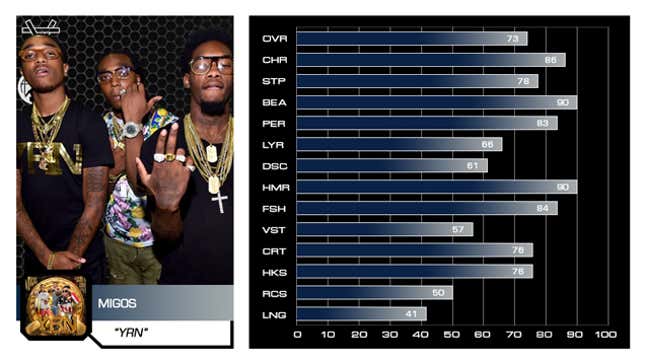 Scouting Report: Speaking of the Drake Bump. Never in my life have I heard more absurdly hilarious and nonsensical things spill from rappers' mouths: "She got good brain like Devry." Each new project might as well be called Migos Say the Darndest Things followed by various Roman numerals. Unless you're amplifying or facilitating fun, though, there isn't really a reason to listen to this Atlanta trio: There's otherwise not much going on here, and they're probably bound for the Only-for-Fun Rap Hall of Fame alongside OJ Da Juiceman, D4L, and Dem Franchize Boyz.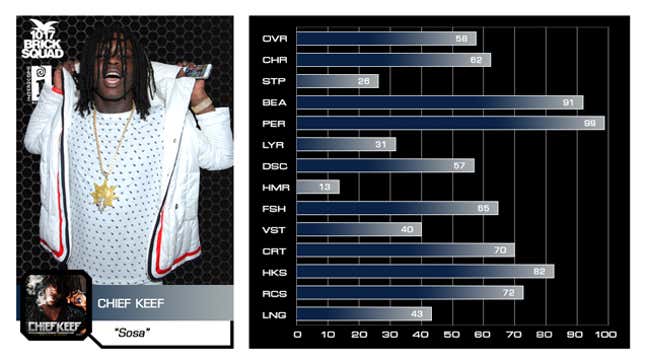 Scouting Report: Chief Keef has exactly three emotions—homicidal, horny, and comatose—is bad at rapping, and doesn't care much for performing. Still, he's a fascinating product of his environment who made a killing as a teenager (on house arrest) while rapping about killing other teenagers over cinematically awesome and villainous production. What a time to be alive.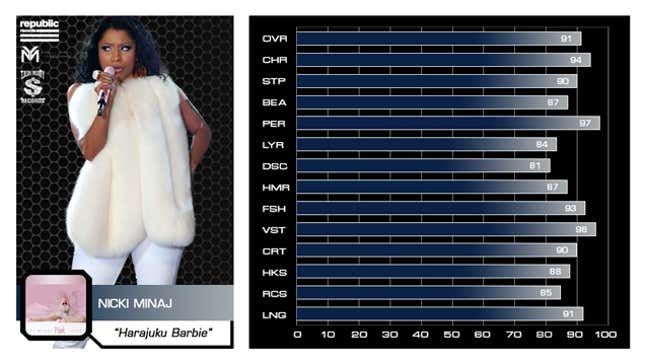 Scouting Report: Nicki Minaj is the hottest mortal rapper in the game right now—a game that ranks somewhere between Silicon Valley and the NFL in terms of female inclusiveness. She raps about things that are any man's true nightmare, but I can't help but love it, because her flow is so effortless and spastic: tender and cute one moment, gritty and arrogant the next. In the past, she has fallen prey to horrific punchlines ("I'm a star / Sheriff badge") and cheap ploys for attention; consider the recent "Anaconda" video, where all the shameless product placement cheapens an otherwise great piece of sensuous visual art. Still, when listening to "Anaconda" you get the sense that Minaj's priority is making great (or at least clever) music, and all that other bullshit, prominent as it can be, is still secondary.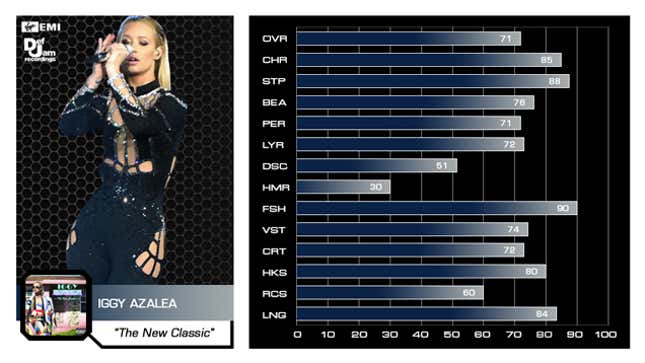 Scouting Report: I don't know, man. I don't have a fucking clue what's happening here. "Fancy" is OK, but Charlie XCX carries it; her new album sounds like a Disney starlet's debut, just with more profanity. The New Classic was not a good title for it. Also, I sincerely hope you read this in an overdone Southern "blackcent" in her honor; she's the best mimic in that regard since Mark Twain.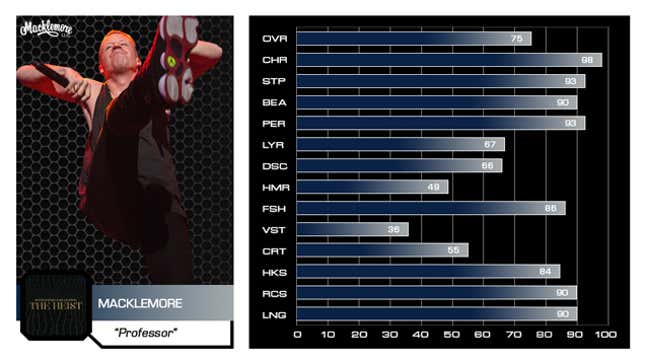 Scouting Report: I saw Macklemore perform on Saturday Night Live and was conned into thinking I could actually like the guy; I gave The Heist a try, and within three songs I'd concluded that he's wack and corny. Like a grown, adult man with a Velcro wallet. He'll be here for a while, though, because he makes rap music for people who don't really listen to rap, or people with no taste—not bad taste, which would be preferable. Just no taste. Like breathing air, so subconscious it's basically thoughtless.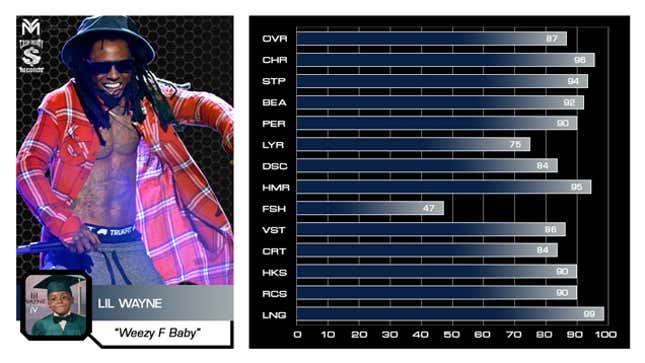 Scouting Report: In 2010, Lil Wayne made a rock album called Rebirth that's more difficult to listen to than your parents discussing their sexual fantasies in great detail. But that was only the beginning: Pretty much every post-Rebirth release has been a recycle-bin classic as well. Look no further than this gallery of Wayne's ridiculous sartorial choices for a somewhat existential rendering of why he's been rapping so poorly. Yet we're still holding out hope that he can get it the fuck together for Tha Carter V: This is still Tunechi, whose flow is so crisp he can trick you into thinking terrible punchlines ("Real Gs move in silence like lasagna") are the work of Oscar Wilde or something. Part of his whole magnetism is that his style is so off-the-cuff and tactless that you can't help but relish his bars: Lousy as he's been lately, he still walks light so he doesn't piss the ground off.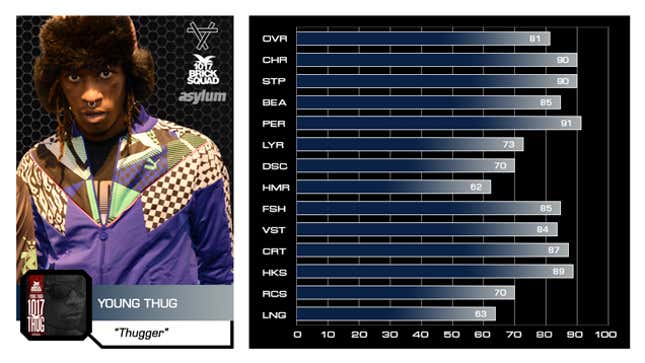 Scouting Report: Nobody knows—not one soul knows—what Young Thug is saying. I'm almost positive his recording process involves opening a can of Alphabet Soup, pouring it on the ground, lighting a blunt, and melodizing what he sees on the floor. The end result is amazing, though, and not buzzword-used-in-the-headline-of-an-aggregated-clickbait-story-amazing, but genuinely, Oxford English Dictionary-citing amazing. What's still up in the air when it comes to Young Thug is if this trailblazer will be sustainable force in the rap industry for years to come; as of now, though, he's as refreshing as a tall glass of sweet tea on a hot summer's day. He's much more than the glitch from Wreck-It Ralph; he's a rock star who couldn't give a fuck if he tried.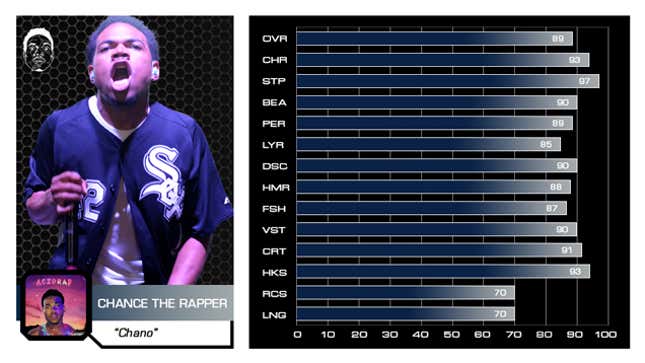 Scouting Report: No label, no saleable album, no hit single. Yet Chance the Rapper dominated Lollapalooza 2014 in his hometown of Chicago, a city with so much sensationalized violence (partly thanks to Chief Keef) that black-on-black-crime fetishists refer to it as "Chiraq." It's often a legitimately horrific and nightmarish place, but young Chance, and the majority of his SAVEMONEY crew, provide the warm heart and soul amid the heartlessness and soullessness. Listen to his mixtape Acid Rap and you can see the influences—including most of his competitors here—but as a sum of all his parts, he makes it all seem nearly unfamiliar. In a cold, gray-scale world, he's an acid-soaked blotter paper primed to open your doors of perception.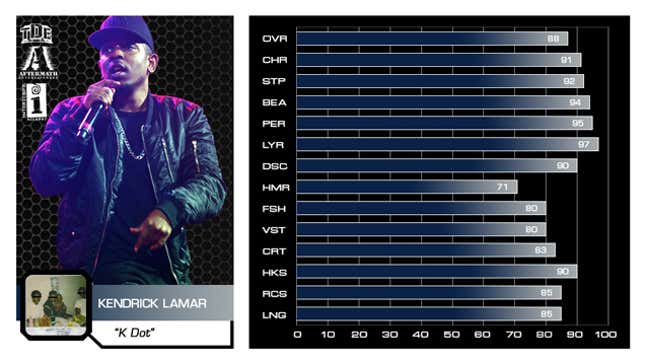 Scouting Report: The thing is, when Kendrick Lamar called out all of his contemporaries on the "Control" verse, he was just telling the truth. We all freaked out over nothing. He asserted himself as the premier lyricist of the new school, even though his (classic) major-label debut album made a much better case. Whereas listening to most conscious rappers is like drinking a warm glass of milk, Kendrick brings excitement to the table with his provocative and sarcastic narrative voice, and merely entertaining the possibility that the follow-up to good kid, m.A.A.d city will be even one ounce better than its predecessor is enough to have us all holding hands singing "Kumbaya." Or at least, chanting, "YAWKYAWKYAWKYAWK."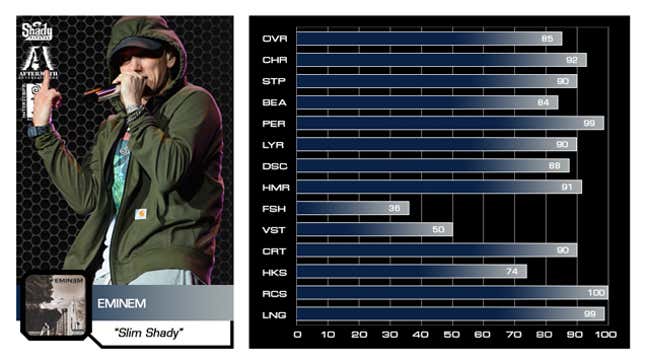 Scouting Report: Remember when Michael Jordan played for the Washington Wizards? That's what you're experiencing with Eminem right now. Still, those flashes of brilliance don't just completely disappear. They never do. So don't turn your back on him entirely. A legend is a legend for a reason.
---
H. Drew Blackburn is a freelance living in Texas. He hopes he doesn't get a strongly worded call from Wale about being left off of this list. He's on Twitter.
Images by Sam Woolley.
The Concourse is Deadspin's home for culture/food/whatever coverage. Follow us on Twitter:@DSconcourse.