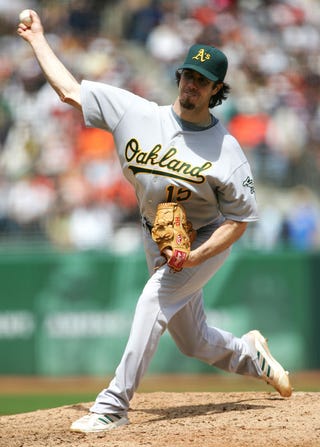 Notes from a day in baseball:
• Clemens wins Yankees debut: Was Rocket overpowering? Hardly, with all but one of his 108 pitches topping out between 89-91 mph. But he did what he was paid to do: Get the win. Now, we'll have to see if his presence rubs off on the team on the days he DOESN'T pitch.
(Meanwhile, one of the most fascinating sub-plots of the season is turning out to be this "anything-you-can-do..." see-saw between Clemens and Randy Johnson. With his 7 Ks yesterday, Clemens regained the No. 2 spot on the all-time strikeout list. Et tu, Unit?
• Dan Haren demands your attention: What's not to love? He won his seventh straight decision (over the Bay Area rival Giants, with Barry Zito pitching, no less). He lowered his MLB-best ERA from 1.70 to 1.58. And he's the best pitcher in baseball right now.
• Jon Leiber, Varsity Dad: After returning from a trip to Alabama for the birth of his son, the Phillies starter pitched a complete-game 3-hit shutout (with 11 Ks) in a 4-0 Philly win over the Royals.
• Good thing Berkman wasn't ejected again: Friday, Lance Berkman noted that the Astros are 2-0 in games last week he was ejected from. Good thing he stuck around Saturday: He drove in the game-winning single in the 9th to lead the Astros over the White Sox.
• Mark Teixeira's "ironman" streak ends: At 507 games. What a wuss.
• What'd I miss? Because I know I missed the one you were looking for. So head to the Comments and fill in the prodigious gaps.
— D.S.