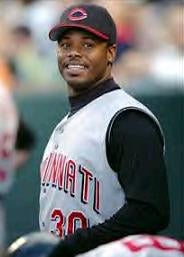 Getting an early jump on the season, Ken Griffey Jr. has broken his hand in an off-field accident. He's been a little reluctant with the details of how it happened (which, to me, suggests masturbation) but the Cleveland Plain Dealer quotes "two sources familiar with the situation" as saying the injury was suffered while playing with his kids.
What were the playing, "red hands" with a ball-peen hammer? Or maybe Griffey was doing something ultra-dangerous, something that's been known to be hell on a man's body. Something like, oh, I don't know... playing centerfield.
He'll have this throwing hand in a cast for three weeks, at which point the doctors will re-evaluate him and probably break his tibia in the process. There's no word yet on whether or not he'll be able to participate in spring training in February, but there is plenty of time for him to slam his arm in a car door or be attacked by a pack of wild swamp rats. His dazzling smile remains unaffected.
Griffey suffers another injury [The Plain Dealer]
June Comes Early: Griffey Hurts Himself. (But He Won't Say How) [Seattlest]