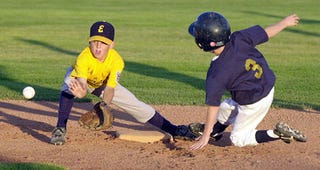 A sun-splashed Saturday afternoon, on a Little League Field somewhere in America:
Runner on second, nobody out. Michael steps out of the batter's box to get the sign from his third base coach. Belt, hat, chest, hat; his coach's instructions are clear.
Michael then looks into the stands and relays the signs to his attorney.
Attorney confers with Michael's parents. They issue a brief statement: "At this time we feel that a sacrifice bunt would not be wise." Michael's parents are charged $3,000.
Timmy files a supplemental brief of the United States in opposition to playing right field.
In a new twist on an old rite of passage, Jean Gonzalez is suing a beloved veteran coach for not teaching her son Martin how to slide properly, according to a lawsuit filed on May 4. The litigation stems from an ill-fated play exactly three years earlier, when Martin, then 12, whacked his first hit of the season and was told to go for second by his first-base coach. When he slid into second base, he suffered "serious bodily injury" that required multiple surgeries and caused "permanent scarring and disability," according to the suit filed in Staten Island Supreme Court. The suit did not specify the dollar amount of damages.
We're not sure what team Martin played for, but somehow we imagine him wearing a tiny Cubs uniform.
Base Accusation: Injured Kids' Mom Sues 'Slide Fool' Coach [New York Post]