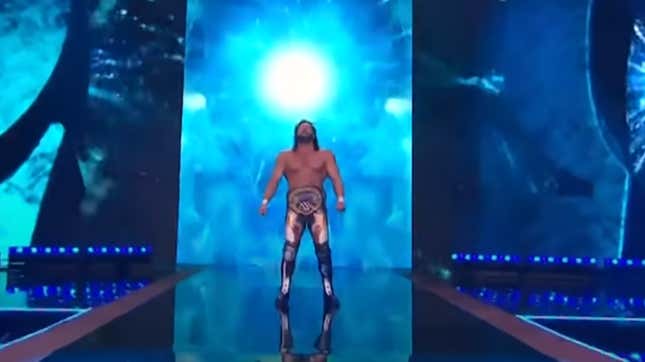 Every sports fan has a checklist of things they have to see in person. These days it probably involves Shohei Ohtani. Maybe Connor McDavid turning some poor schmuck on a third pairing into unrecognizable goo (I saw him do it to Duncan Keith). LeBron in person maybe. The timeless ones are seeing a game at Wrigley or Fenway or Lambeau (even this Bears fan will admit it probably should be done). There are various college football stadiums I'm sure that reach that level if you're one of those weirdos. If you have a bottomless pit of money and are absurdly pretty, maybe the Monaco Grand Prix is on your list.
How will The Elite return to AEW? | Deadspin Dropkick
It extends beyond sports too. Taylor Swift's tour is certainly proving to be that for thousands (and it better be, considering her half-hearted effort to rein in prices. #TeamRobertSmith forever). If you're an old like me, maybe it was seeing Axl stand on the monitors one time, and saying how he used to get up on time, even if he doesn't have quite the sustain he used to. A Broadway show or a play at Steppenwolf.
The most wonderful thing about wrestling is that it's all of these things at once. It is seeing great athletes, but it's also theater while at the same time having the pageantry and bravado of a concert. There's no pyro on Broadway, let's say. And if there's one thing every wrestling fan wants to see live before they step on a rainbow, it's Kenny Omega melding all of these things perfectly in a singles match and putting on something the entire industry will talk about for years.
After Sunday, I can cross it off my list.
I had tried before. In 2018 I made the trek out to Lakefront Arena in New Orleans on Mania weekend to see ROH's Supercard of Honor where Omega was in the co-main event with Cody Rhodes. It was at the end of the struggle-for-control-of-Bullet-Club feud between the two that eventually saw Omega repair with Kota Ibushi and reform the Golden Lovers. The match was good, maybe even bordering on great, but it wasn't quite to the god-level that Omega had been living in at the time. He was still on the wave of his creation something wholly new with Kazuchika Okada over three matches the previous year. He was unquestionably putting on the best stuff in the world at the moment, and let's face it, Rhodes was never going to rise to that challenge.
Since AEW began, Kenny has been a little wary of going on a singles streak, or that's how it felt. Certainly the pandemic blunted his run as champion, and matches without a crowd were never going to rise to the Olympus level that only he can. He, like every other wrestler, needs that energy to feed off of, and vice versa.
That doesn't mean there haven't been classics in AEW. His tag match as Hangman Page's partner against the Young Bucks at the first Revolution is still one of the best matches the company has had. The 30-minute draw with Bryan Danielson at the first Grand Slam remains one of the defining nights of the company. He also introduced El Hijo del Vikingo to the world. Just a few weeks ago he renewed a rivalry with Jon Moxley that is the bedrock of AEW. Maybe he hasn't put on a streak like we saw in Japan, but the regularity of AEW's television schedule probably prevents that, but there were certainly enough reminders for everyone to know it was still in his bag.
There when you need it
While Danielson-Okada took the main event slot, fans were no less excited about Omega-Ospreay at Forbidden Door, mostly because we already had a taste of what these two were capable of. Their match at Wrestle Kingdom in January is still the clubhouse leader for match of the year, and the thought of the two of them building on it had fans salivating.
There is something about watching Omega enter, arms in the air as the flames shoot up, and the pyro pops, which makes you feel not just like you're about to see something truly special, but that you're at the start of the most thrilling roller coaster you've ever ridden. It is the rockstar moment, akin to the house lights being cut, and hearing the first chords of your favorite song. The way the outside world just melts away in that moment and everyone is as present as can be. It sends a charge through an arena like no other.
The main theme of their rivalry has always been that Ospreay wants to be Omega, both in kayfabe, and probably in real life too. You could run 100 Spider-man memes about them. The twist is that Ospreay isn't ever going to be Omega, even if he has all the same physical gifts. He takes himself far too seriously, he's far too calculated, and just doesn't quite have the natural charisma that Omega does. And he knows it.
Which is how the match played out. Ospreay was desperate to show that he is on Omega's level, consistently missing the last step, and upping the amount of violence after each attempt. Whatever angle you want to judge a match on — technically, physically, brutality — this match had it. Pick any section of it and you'll find all of it. The match was about Ospreay's descent, or ascent depending on your point of view, into madness, and needing that to finally reach the level required to get one over on Omega. Y'know, like this:

Or:

Not that Kenny was going light on the violence either:

The match crescendoed when Ospreay appeared to hit his finishing combo, only to see Omega get his foot on the rope at the last second, sending the Canadian crowd into their first frenzy of the match. This was only the start of the 13,000 strong taking leave of their senses, if not their entire bodies. Ospreay looked to put an exclamation point on it all by beating Omega with his moveset, a Kamigoye borrowed from Omega's best friend Ibushi and then the One-Winged Angel, the rare finisher that no one has kicked out of when Omega has authored it. Omega kicking out at one had Scotiabank Arena in delirium.

It was clear then that Omega wasn't going to win the match, but that he wasn't going to lose it on Ospreay's terms either. He wouldn't allow Ospreay that. You may win Will, Omega seemed to be saying, but it'll still go down how I want it to. Which eventually it did, setting up a third, and decisive match between the two, likely at All In at Wembley.
No one blends every aspect of the live entertainment experience like Omega, who keeps everyone's eyes on him with his swagger all while telling a story that grips everyone and doing things with his body that don't seem possible. It's Olivier and LeBron and Jagger rolled into one guy. He's so good I didn't even care that Ospreay won, and I HATE Will Ospreay. Too up his own ass and quite possible a total tool in real life too. If you can get me to be all right with probably the biggest win in Ospreay's career, you've really pulled a trick.
And now my wrestling fandom won't have a blank that I'll always regret. It now has something I and so many others will keep forever.
---
Follow Sam on Twitter @Felsgate.