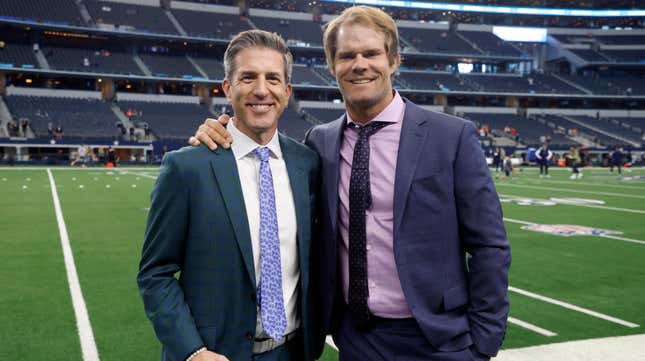 A lot was made of Fox's booth before the Super Bowl, as broadcasters Kevin Burkhardt and Greg Olsen made their debut calling American sports' biggest event. With the specter of Tom Brady looming over Olsen's future as Fox's No. 1 analyst, the duo was spot-on all night.

What is the least important NFL Combine drill?
Burkhardt got excited when he was supposed to be excited, Olsen's key points were relevant, and the booth was present but not overbearing throughout. The most gradable moment — aka the call once the winner clinches the title — was fine. "And the Kansas City Chiefs have won Super Bowl LVII" won't blow anybody's mind, and Burkhardt didn't necessarily have to.
A play-by-play guy has to be senile, supremely unlikeable, or the son of a famous broadcaster for the public to turn on him, and Burkhardt is none of those. However, he's not up for replacement, so let's talk about half of the duo that is.
Olsen earned a shot as somebody's go-to analyst
It could've been easy for Olsen to overdo it, and try too hard. The insight he adds to a call as a former tight end spans from the passing game to blocking schemes, and he did a good job of explaining without making things complicated.
He was on the coaching risks throughout, with Nick Sirianni taking risks and Andy Reid opting for field goals on fourth and not that risky. The field conditions played a factor even though it was the Super Bowl, and Olsen, as a good analyst would do, saw what we saw.
My biggest pet peeve is when guys have on-air orgasms over quarterback play, and Olsen kept his composure even after Jalen Hurts hit Dallas Goedert on a third and 14. He was on Sirianni's jock a bit over the fourth downs, yet it was a big part of the first half, so I wasn't too bothered by it.
There wasn't a ton of controversy outside of THAT holding call, and Olsen was on top of it. Mike Pereira can defend the zebras all he wants, but Olsen was right. It was a 50-50 call, and Eagles fans will never — NEVER — let that go.
A note on diversity
The NFL checked off every diversity box they could before the game kicked. Babyface opened for anthem singer Chris Stapleton. We got a Native American signing the anthem, and the first-ever all-women military flyover, which the NFL made sure to note.
That was followed by Burkhardt and Olsen reminding us that even Fox's B-team doesn't feature a Black person. It would be nice if all this energy over Olsen possibly getting ousted by Brady also could be directed at getting more diversity on the call.