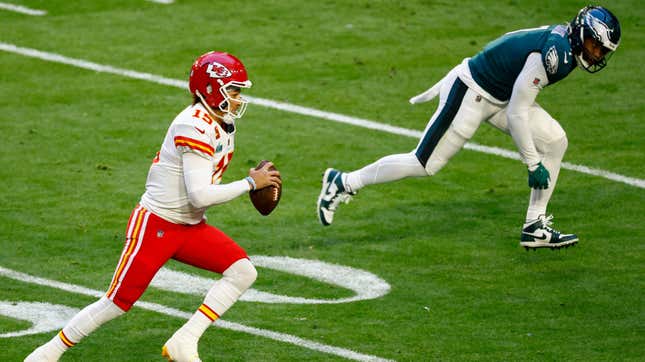 The Super Bowl is only the most important game of the year. And making sure the grass turf inside State Farm Stadium was in immaculate condition at kickoff was paramount. And the league failed. A few players for both the Chiefs and Eagles have slipped on the playing surface, more than what happens in a usual NFL game.
Which NFL team had the most improbable Super Bowl win?
Obviously, maintaining a natural surface in the middle of February, in Arizona's climate no less, is a challenge. Yet, this is the second-straight high-profile game to have this issue at State Farm Stadium. The College Football Playoff semifinal between TCU and Michigan also had players slipping all over the field. Both the NCAA and NFL should give serious consideration to never playing a critical game in Glendale again.

"For this one, obviously, we're giving it a little extra care," said Nick Pappas, who is one of the NFL's field surface directors, to the Associated Press this week. "We've got a lot of groundskeepers here for about a month, putting eyes on it, putting hands on it, working on it all day, every day, getting it ready for game day."
State Farm Stadium, the home venue for the Arizona Cardinals, usually rolls its field into place on one enormous track and taken out to be maintained off-site and to host other large-scale concerts and events. Allegiant Stadium in Las Vegas hosts next year's Super Bowl and has a similar process for maintaining its field. The NFL changing its process to take better care of its field is needed for next season's finale.