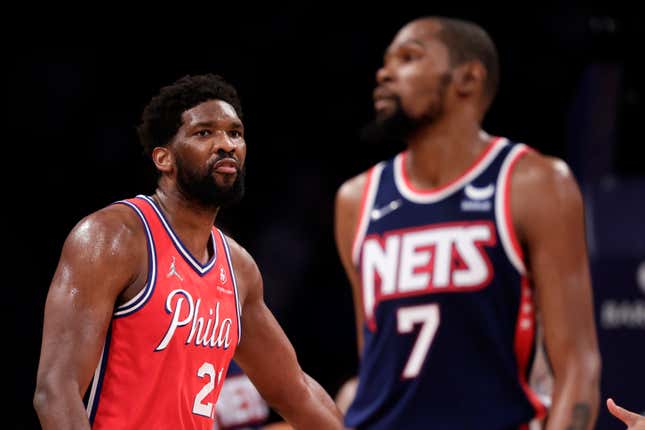 We need a Philadelphia 76ers vs. Brooklyn Nets series in the postseason. For the trolling, if not the talent. These teams squared off Wednesday night with only Philly at full strength since Kevin Durant is still sidelined for Brooklyn. Although he wasn't on the court, Durant managed to make his presence felt via Twitter. Big surprise. The two-time NBA champ took to Twitter to express his dissatisfaction with Sixers star Joel Embiid's DX crotch chop, #SuckIt celebration following an acrobatic layup.

Nikola Jokić is your 2023 NBA MVP... right?
With both teams at full strength, we'd be looking at a chippy yet hilariously immature seven-game series with plenty of crotch-chopping and sensitivity to go around. In keeping with the late 1990s pro wrestling theme, this matchup would be like the D-Generation X-Nation of Domination feud for all the old-school WWF/WWE fans.
The NBA is reminding us of the WWF
Those two factions weren't the main event at the time but were the best on the card some nights. The same can be said about the Sixers and Nets despite their current standings. Boston and Milwaukee (when healthy) are seen as the class of the Eastern Conference. Based on matchups, the Celtics and Bucks are the main event in the East. The Sixers and Nets are good but not quite as good as the others — fitting for the undercard. In '98, that was the story of The Rock/NOD and Triple H/DX. Both are very good, but not on Stone Cold Steve Austin, or The Undertaker's level.
Embiid would be on Durant's last nerve with his hip thrusting and trolling nature. Durant probably gets a kick out of it to some extent, but he's all business on the court and seems to smile rarely. Joel "Troel" is having fun most of the time while dominating in a way we haven't seen from too many big men. The bonus of trash-talking Ben Simmons for potentially seven games probably excites Embiid.
Hopefully, these teams finish the season ranked No. 2 and No. 3 in the East, so we get that second-round series. That is, if the Nets don't slip up again in the first round. Durant vs. Embiid would be comical for an entire series, and I'm there for all of it. Every KD mid-range shot right down to every trolling crotch chop of Embiid's following a tough basket. Kyrie Irving and James Harden would be afterthoughts behind Embiid, Durant, and Simmons being constantly taunted by Joel. NBA, please make this happen. Do whatever it takes, but we need this in our lives.