The Warriors beat the Cavs thanks in large part to a string of late no-calls on what could and should have been fouls on Kevin Durant, guarding LeBron James in the waning possessions of Golden State's 99-92 win. Durant, possessed of a new aggressive streak this season that extends to his defense, doesn't want to hear it.

James was sanguine about the no-calls. "He fouled me twice," James said. "But, whatever. What are you going to do about it?" Fair. Nothing to be done about it, though it was especially awkward that the second of two controversial plays had to be reviewed for possession, giving the refs and viewers at home repeated opportunities to see just how bad a non-call it was. (Which isn't to say the exasperated Jeff Van Gundy, who pleaded on the broadcast for foul calls to be reviewable, has the right solution. That'd open a whole new can of worms. In slow motion, everything looks like a foul.)
Durant was asked about the sequence, and observed that anyone who wanted a whistle on the play would be pissed if anyone tried to claim a foul on the same play in their pickup games.
"It felt clean. It's probably the same play a bunch of those dudes on Twitter probably arguing about at 24 Hour Fitness that that wasn't a foul. They've been in that position before, but just not on Christmas at the Oracle Arena. So they know. They know if they ain't call it it's not a foul. I'm sure if they get that call next week at 24 Hour Fitness, they're going to be pissed that they called a foul. So keep that shit on Twitter."
G/O Media may get a commission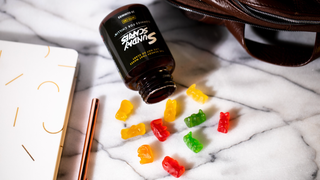 10mg CBD Gummies (22-Count)
At least we know Durant himself is comfortable keeping that shit on Twitter, even if he has to use alts.
It's hard to get too mad at a call in a relatively meaningless regular-season game that's merely setting up storylines for what looks like it'll be yet another Finals rematch. I'm sure, if Durant had his way, he'd go ahead and trade a foul here for one in the closing seconds of Game 2 of the 2012 Finals, when a pretty clear uncalled foul on LeBron helped deny Durant the chance at tying the game.
Back to this year, and Durant on LeBron one-on-one is definitely something to keep an eye on, should these teams meet again. Steve Kerr said Durant specifically asked to guard James, and Durant's defense has been one of the surprises of the year, to the point where there's already a groundswell for his inclusion on the All-Defensive team. It's cool that we're seeing a new side to Durant's game at age 29, a fresh combativeness that extends both to racking up technicals and playing some shutdown D. With James, who turns 33 later this week, having one of his very best season, a physical battle between the two would be one hell of an angle on which to hang a Finals.