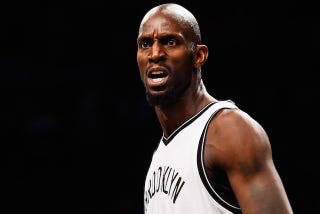 The NBA trade deadline has led to a few exciting trades, but none have been more fun than the one that will send Kevin Garnett back to the Timberwolves.
Garnett has been on a slow, mostly sad march toward retirement as a member of the Brooklyn Nets for the last few seasons, but today he agreed to waive his no-trade clause so that the Nets could send him back to Minnesota in exchange for Thaddeus Young.
This is going to be great! Not only will this surely lead to the production of the greatest "I'm Coming Home" video montage in NBA history, there is a damn good chance that Garnett, who loves Minnesota and expressed fierce loyalty to the city even after he was traded to Boston, will be so hyped about coming back to the place where he spent the first 12 years of his career that he'll average 20 points and 14 rebounds for the rest of the season. Okay, that's probably unlikely, but he should be good for at least one tearful, semi-deranged speech delivered at midcourt.