Kevin Johnson announced late Tuesday that he won't be running for a third term as mayor of Sacramento.

The decision comes amid a wave of recent publicity about various scandals to which he's been tied, especially the allegations of sexual abuse and harassment that have been leveled at Johnson over time. (Johnson has never been charged with a sex crime.) The most damaging of these allegations came from Mandi Koba.

Last month, Koba told Deadspin that Johnson, then a star guard with the Phoenix Suns, had paid her $230,600 in 1997 to never talk about him except to "a priest, a therapist, or a lawyer." Koba produced a draft copy of the agreement she says she signed; the original document, she says, is locked away in a safe deposit box in Arizona that "can only be opened when both of our attorneys are present." Koba, now 36, says she broke this agreement to speak with Deadspin because she was done "protecting" Johnson. Recently, Deadspin posted a 1996 video showing a then-17-year-old Koba claiming to a Phoenix detective that she'd been groomed and molested by Johnson a year earlier.
Johnson made his announcement on the same night that ESPN was scheduled to debut Down in the Valley, a documentary hailing Johnson for keeping the Sacramento Kings from leaving town. The network decided not to air the film because of the Koba video.

G/O Media may get a commission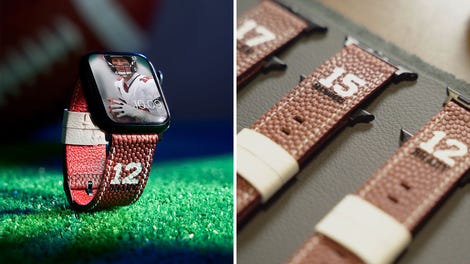 Official NFL PRODUCTS
Official NFL Apple Watch Bands
The 30 for 30 film recently looked like it would be part of a national coming out party for Johnson. It wasn't long ago that his political future seemed destined to transcend Sacramento. He called himself Little Barack on the Colbert Report shortly after he was elected mayor in 2008, and lots of folks around Johnson have told me in recent months that he fancied himself as the next governor of California, even a future president of the United States.
Johnson couldn't run for those higher offices, though, without finding a way to outrun his past. And the recent reexamination of the sexual abuse allegations made his official biography—the one that boasts about his having once being named to a list of the 15 greatest men on earth by McCall's and tagged as one of President George H.W. Bush's thousand points of light—seem irrelevant. All the talk about Johnson of late has been of the seamy side, with news organizations on both the far right and the elite left urging the real President Obama to cut all ties.

Even in his hometown—where he's been famous since his days as a basketball star at Sacramento High and later at Cal, and where the local media has (with the exception of the Sacramento News & Review) covered him with incredible softness—he's been getting crushed lately. Rumors, further, have a variety of national news organizations camped out in Sacramento, raising the prospect of yet more devastating coverage to come.
"I have been waiting and waiting for him to be brought down," Mandi Koba told me last month. "And it doesn't seem like it's ever going to happen."
Photo via AP