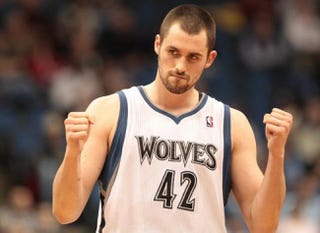 Every morning, the fine folks at Sports Radio Interviews sift through the a.m. drive-time chatter to bring you the best interviews with coaches, players, and personalities across the sports landscape. Today: Love has eight days before gaining RFA status.
Kevin Love joined KFAN in Minneapolis with Paul Allen to discuss the strengths of Ricky Rubio, one underrated player on the Minnesota Timberwolves roster, the Timberwolves offering him the maximum extension to keep him in Minnesota, what's holding up Love from accepting and cementing his future in Minneapolis for years to come, and the future of the Minnesota Timberwolves roster.
What does Ricky Rubio do well that you weren't sure he could accomplish before you arrived?
"He can shoot it. He can shoot it. Like you mentioned in the 4th quarter of the Atlanta game and actually the first 12 games throughout training camp since he has been here he's been shooting the ball very well and people said he couldn't shoot when he came over here. He's been surprising a lot of people and he's going to continue to work at that and if you say he can't do something he is going to go out there and try to prove you wrong. He shoots the ball well and if people want to keep thinking he can't shoot it he'll keep shooting them from deep."
You and Ricky Rubio get all the headlines. Give me another player who you think is underrated and gives you guys a chance to win nightly?
"I think there is a few of them. There's Anthony Tolliver. There's Derrick Williams. JJ Barea. There's a lot of guys. Obviously JJ Barea is out right now. Michael Beasley is out right now. We have an influx of guys that can change the game in the right ways for us. I think it's not one guy in particular. I don't have a definitive answer for that. I think it's a different variety of guys. It could be one guy on any given night and that's why we are looking to keep everyone on our team and we feel like we have a deep team."
The elephant in the room on January 25th is the Wolves can match you out. Will you be a Timberwolve for many years around that day?
"I don't know the answer to that. I wish I did. I wish I did, but I am going to try to continue to help this team get better night in and night out and hey we have a chance to do that tonight against Sacramento. I wish I had an answer for you, but I don't."
Is there a hang up between you and the Minnesota Timberwolves? Everybody loves you here. Do we have a problem?
"It's all in my agents hands. It's all in the front office's hands. I can't really speculate too much on that, just whatever happens in the process, but the fans know I love them and I just want to keep it that way." [Paul Allen: Having Ricky Rubio here doesn't hurt does it?] It doesn't. How we started off the season, I know wins and loses doesn't always show how we are playing, but we are playing a good brand of basketball. We are getting better and we are right there, so it definitely helps."
You got some pieces for the future here Kevin with Ricky Rubio, Darko Milicic and Derrick Williams:
"Yeah we definitely have some pieces. It all starts with Coach Adelman and his coaching staff, so he definitely…I mentioned a bunch of players that can help us win and then obviously the coaching staff is great. I love the Twin Cities. I love Minnesota and I love the Twin Cities. There's a lot of bright spots."
This post, written by Steven Cuce, appears courtesy of Sports Radio Interviews. For the complete highlights of the interview, as well as audio, click here.
More from Sports Radio Interviews
• Vernon Davis decided it was time to be Superman.
• Eli Manning doesn't like to get hung up on bad calls.
• Bill Belichick thinks the Patriots will have to be better against Baltimore than they were against Denver.