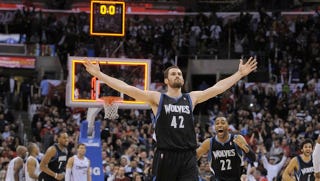 Your morning roundup for Jan. 21, the day we learned both Chuck Norris and Newt Gingrich are still hanging around. Got any stories or photos for us? Tip your editors.

What we watched: I tried to watch the Wild Wolves at the Clippers. I really did. I could have picked a worse game, too. This one had loads of young, exciting talent. Rubio and Kevin Love for Minnesota and of course the Clippers' Blake show. But I fell asleep, only to be woken up by Dan Shulman's (I think?) shrieking call of Kevin Love's game winning three pointer.
I don't know why, this year of all years, I am trying to give the NBA a chance, but I am and it is not working. I used to love playing and watching the game, but it is easily the most highlight reel-y of all the major sports. You don't need context to appreciate a spectacular Blake Griffin dunk, or to be totally bewildered by the inclusion of an unnecessary behind the back layup from Ricky Rubio in Sportscenter's Top Ten Plays the other day. It's the same reason no one really cares about the strike shortened season. All the action happens at the end. Wake me up when it's close.

What we're watching (all times EST, unless noted): NBA: Philadelphia at Miami at 7:30 p.m. (Local broadcast), Denver at New York Knicks at 7:30 p.m. (NBA TV) NHL: NY Rangers at Boston Bruins at 1:00 p.m. (NHL Network), San Jose at Vancouver at 4:00 p.m. (NHL Network). College Basketball: Alabama at Kentucky at 12:00 p.m. (CBS), Missouri at Baylor at 2:00 p.m. (ESPN), Kansas at Texas/Connecticut at Tennessee at 4:00 p.m. (CBS), Syracuse at Notre Dame at 6:00 p.m. (ESPN), Louisville at Pittsburgh at 9:00 p.m. (ESPN).
Read Me
"Make a left at the legs": "The legs are 16 feet tall, are made of fiberglass and stand on the side of a home that used to be the Bethel Baptist Church. They were constructed by the artist Larry Rivers, who still manages to delight and offend from the grave. Some people love them as the irreverent embodiment of the rare Hamptons village with a sense of humor and values that transcend dollar signs. Some people hate them as the embodiment of too-cool Manhattanites and art snobs who should have more respect for Sag Harbor's fishing village past. And after more than two years of pondering weighty issues of art, taste and land-use law, the village has ordered that they be taken down by Sunday in a classic East End kerfuffle revolving around art, zoning law and the still-charged reputation of the artist buried a few miles away. 'People love the legs,' said Janet Lehr, who along with the art dealer Ruth Vered owns the legs and the house they share at the corner of Madison and Henry Streets. 'They've become a local landmark. People say, 'If you want to get to 114, make a left at the legs."' As for the village she said: 'I think it's too much for them to cope with. It's monumental art, something beyond their experience. Sag Harbor always considers itself the intellectual village. They're letting their people down.'" [NYTimes]
Elsewhere
Replacing an empty shirt with a sweater vest: "Colts owner Jim Irsay flew to Florida on Friday and while there discussed the team's head-coaching job with former Ohio State Buckeyes coach Jim Tressel for a second time, according to reports. Tressel, who resigned in May after an NCAA scandal that enveloped the Ohio State football program, was hired by former Colts coach Jim Caldwell in September to be a game-day consultant in a role that allowed him to work from the team's coaches booth and advise Caldwell about replay reviews. Tressel didn't begin his duties until the seventh game of the season. NFL commissioner Roger Goodell has said he would have suspended Tressel if the Colts didn't make him sit out games to start the 2011 season. On Friday morning, Irsay flew to Sarasota, Fla., where Tressel owns a home, according to the Indianapolis Star, and according to WBNS-TV in Columbus, Ohio, a second interview was conducted." [ESPN]
Remember these ladies?: "Determined to avoid another slip-up in a qualifying tournament, the U.S. women's soccer team set records by posting an NFL-like score. The players would happily give a few of those goals back for a healthy Ali Krieger. Krieger's right knee injury tempered the United States' 14-0 rout of the Dominican Republic on Friday night in the Americans' opening game of the CONCACAF qualifying tournament for the Olympic Games in London. 'It's probably a serious injury,' U.S. coach Pia Sundhage said. 'By tomorrow we'll know exactly what it is.' Amy Rodriguez tied a U.S. record with five goals in a game - all in a 30-minute span after she came on as a substitute at the start of the second half. The 14 goals are the most the Americans have ever scored in a game in their 27-year history, topping a pair of 12-0 wins in World Cup qualifying in 1991. Abby Wambach scored 37 seconds into the match, the first of two goals before she left at halftime, having taken a knock on her left knee that was exacerbated by the artificial surface at the indoor BC Place. Heather O'Reilly added a hat trick for the Americans, who improved to 32-1-1 all-time in qualifying for World Cups and Olympics." [SI]
Your Ed Helms with a sinister goatee Interlude:
Not sure why, but this first sentence makes me laugh: "The Cleveland Indians pitcher known as Fausto Carmona issued a tearful apology Friday as he was released following his arrest for allegedly using a false identity to play baseball in the U.S. 'I ask for the forgiveness of my fans, the government of the United States and the Cleveland Indians for this situation,' he said upon leaving the court, where a judge released him on bail of about $13,000. Police arrested him Thursday outside the U.S. consulate in his native Dominican Republic when he arrived to get his visa renewed. Spokesman Maximo Baez Aybar said the athlete's real name is Roberto Hernandez Heredia and that he is 31, three years older than he had claimed." [Cleveland.com]
Tennis!: "The 92nd-ranked [Greta] Arn saved another set point before holding serve for the first time. Williams responded by winning the next five games before Arn held again. The match ended in 59 minutes Saturday, on consecutive double-faults by the Hungarian. 'I'm nowhere near where I want to be,' said Williams, who has won her last 17 matches at Melbourne Park. 'I'm just trying to play through it. A little rusty — just trying to play through my rust.' Williams has won the Australian Open five times, including back-to-back titles in 2009 and 2010. She didn't get to defend her title last year due to injury." [CBS]
Send stories, photos, and anything else you might have to tips@deadspin.com.