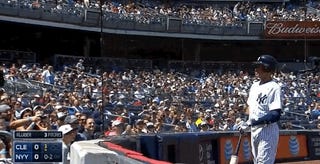 Welcome to the harsh reality of life, kid. There's always someone younger and cuter than you and they will always get the cool shit you want.
The poor kid is basically hover-handing the ball as Jeter tantalizes him with it, right in front of his face. Watch him; he thinks might actually get a ball from Derek Jeter. As the realization dawns, he smiles and makes one final move and then immediately retracts his hand, almost apologizing for what should rightfully be his. After all, he was there first, he is a fully-functioning human with control of his motor faculties, he is not a potato sack full of drool and germs who can't even hold his own head up.
Although, he is, what, 12? Sitting in, like, $1,500 seats when you can barely afford the bleachers? Welcome to the harsh reality of life, reader.
[FS1]