The family of a kid who got fired from his cameraman job for asking Don Cherry about his ties is fighting back; and all of Canada is wondering where this one is going next.
Here's Billy Steele, 17, a cameraman who worked on Rogers TV broadcasts of Ontario Hockey League games at the General Motors Centre in Oshawa, a suburb of Toronto. On Jan. 14, Steele spotted Don Cherry at a game and approached the flamboyant Hockey Night in Canada announcer and asked to have a picture taken with him. He also asked about his ties.
Officials of Global Spectrum, which run the facility, say that they have a strict "don't bother the celebrities" policy for their employees. So they summarily banned Steele from the premises for any future events.
The Oshawa youth, whose learning disability causes him to sometimes disregard rules, had been warned before about approaching celebrities, said Vince Vella, general manager of the city-owned facility. Billy argued he didn't know about the centre's "no-talk policy."

Mr. Cherry, who loves talking to kids and was furious that his name was dragged into the dispute, offered to speak up on the teen's behalf. But the word warrior's phone call failed to sway Mr. Vella.

Mr. Vella would only promise to review the matter after the dust settles, said Cherry.
If this were the U.S., you can bet there would be a lawsuit. But this is Canada, where they settle their disputes in a more staid and dignified ... wait, sorry. A shitload of litigation here, as it turns out. Steele's father, Bill Steele, has filed a human rights complaint against Global Spectrum, alleging workplace discrimination and seeking $100,000 in punitive damages and lost wages. He's organized protests at all future events, and says that he's had fantastic response to the cause.
G/O Media may get a commission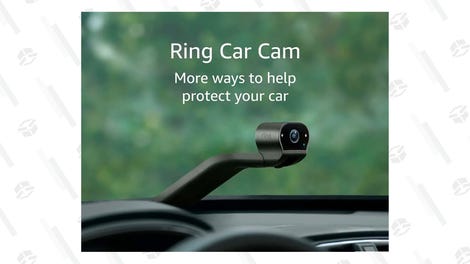 "The dust isn't going to settle," Bill Steele told Deadspin by phone. "I can't believe how badly they've treated my son. I mean, you talked to Don Cherry, how dare you? They said they had a policy about approaching hockey players, but they didn't mention anyone else. This job was the best thing my son had going for him; it turned his life around. I'm furious."
Cherry says that he's also angry that Rogers Centre has dragged his name into the fracas. "I resent the fact that (they've) brought my name into firing a young kid who comes up and asks me about my ties," he told the Toronto Star. "I love it when kids come up and are friendly like that. I welcome kids – that's why I wear those goofy ties."
The elder Steele sad that after his son was fired, he continued to go to Oshawa Generals games as just a paying customer.
"But their security people would follow him around and harass him," Bill Steele said. "During one game they took a sign he was holding, tore it up and threw it in the garbage. I called them and told them to stop following him; one of the security guys weighs 300 pounds, he's hard to miss. He's not hiding behind any poles."
Bill Steele says that his son's life was directionless before he got the job as a cameraman. "Rogers TV has been great to my son; they taught him a lot, and that's what he wants to do now for a career," he said. "This is a great story of a kid who had been running on the streets and getting into trouble, and he's turned it around. My son goes to school in suits now. I'm really angry at the way Global Spectrum has treated him and I'm not going to let this go."
Don Cherry's Call Can't Save Oshawa Teen's Arena Post [Durham News Advertiser]