You know that feeling when you see a picture of a mother holding her baby, and you could almost swear you're looking back in time at the late Jackie Kennedy and her then-one-year-old boy Jack Jr.?

The Cut knows exactly how you feel.
Here we have an article in which an Instagram photo of Kim Kardashian and her son, Saint West, is determined to be a re-enactment of an old photograph of Jackie Kennedy and her son. The reasoning is, uh, less than airtight:
Of course, the similarities could be coincidental. Sometimes babies wear red! Sometimes photos are grainy! But we know Kanye has been hitting the movies a lot lately, so it's definitely possible that the pair saw Jackie and took some inspiration from its aesthetic.
G/O Media may get a commission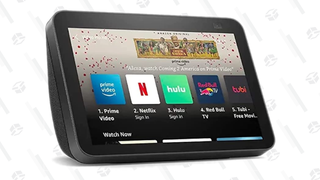 I suppose it's "definitely a possibility" that the photo is a result of Kim's husband being inspired by a movie that did not even recreate that exact shot of Jackie and her son. But we say, why stop there?
Here are some other iconic images it's definitely possible Kim was paying homage to when she posted this on Instagram:

Wow, incredible.