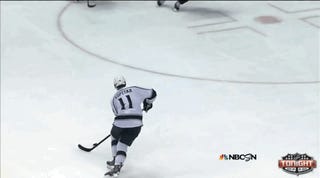 Oh man, poor Jonas Hiller. The way he whips his body around and looks back after that goal trickles in, you can feel his anguish and disbelief, even though he's wearing a mask. He is staring daggers through that puck. At 12:07 in overtime, Marian Gaborik redirected Anze Kopitar's pass and it sort of just rolled up and over Hiller to give the Kings a 3-2 win in Game 1.
Hiller looks like Sad Goalie for good reason. With seven seconds left and the Ducks holding on for dear life to a 2-1 lead, Marian Gaborik tied the game when he swatted the puck out of mid-air and bounced it between his legs and into the net, to send it to overtime.
This was the first playoff game ever between the California neighbors and L.A. stole it right out from under Hiller and Anaheim.
[NHL]