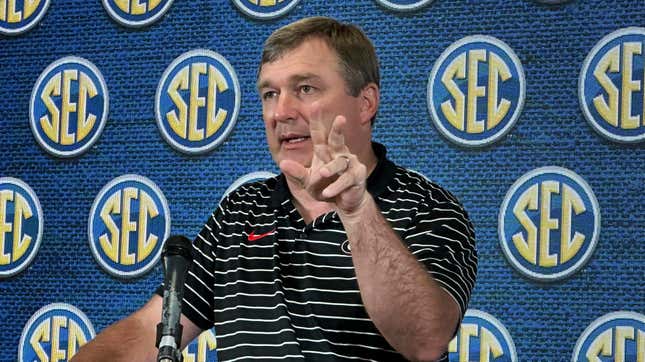 The Georgia Bulldogs football program entered rarified territory after back-to-back titles this year, joining Alabama, and USC as the only programs to accomplish that feat this century. Kirby Smart has constructed a doomsday machine in Nick Saban's image, and the proof is not only clear from the wins, and hardware but also in the talent the school has put into the NFL.
Unfortunately, Urban Meyer will coach again | Google is Free
The Dawgs landed the No. 1 quarterback in the 2024 class, Dylan Raiola, and are poised to continue attracting big-name recruits. The UGA-renaissance is upon us, and the long-dormant powerhouse is getting the recognition that comes with that level of success.
An unfortunate side effect of the notoriety is the scrutiny, specifically as it relates to off-the-field issues. Bulldogs have landed in the blotter often, and while I'm not going to say who wore it worst, the noise is a little reminiscent of another SEC school that looked ready to run the conference.
Heir apparent to the throne, or just infamy?
There was a time when the Florida Gators were king of the college football hill, with Urban Meyer scheming explosive players into open fields to go along with explosive allegations off of it. I would say that stress led him to resign, but that's debatable considering how comfortable he is in morally questionable situations.
We'll see how well Smart and Co. can sustain this run, but, umm, 300 traffic violations since the coach took over in 2015 feels excessive. The Atlanta-Journal Constitution did a startling deep dive into the offenses, and the article leaves you with a feeling that Georgia players are out on the streets of Athens doing their best Dominic Toretto impersonation.
All of this recklessness culminated the day after the Dawgs' second championship parade in January when staffer Chandler LeCroy and offensive lineman Devin Willock died after crashing into a pole. Defensive lineman Jalen Carter had to turn himself in to police due to alleged involvement in the accident, which he pleaded no contest to and in all likelihood dropped him out of the top five in the 2023 NFL Draft.
One investigation described the two drivers — LeCroy in a 2021 Ford Expedition, and Carter driving a 2021 Jeep Trackhawk — as "operating their vehicles in a manner consistent with racing."
Not-so-favorable company
Regardless of where Georgia falls on the list of scandalized title teams, they're now in that group. It's not the kind of company that you want to keep as we've seen off-the-field issues fell programs before. Say what you want about Saban and Alabama, but he's been at this since 2007, and I can't recall (cult) members of the Crimson Tide having a run like this.
Yes, that's the nicest thing I've ever written about 'Bama, and, yes, I hated saying it probably as much as Georgia fans hated reading it. However, it needed to be said, what with Stetson Bennett getting arrested for public intoxication in Dallas three weeks after UGA's romp over TCU. I can appreciate a post-title bender as much as the next binge drinker, but three weeks is a lot even for a college kid. None of this reflects well on the school, the fans, its coach, and whoever is in charge of holding players accountable.
Getting 18-, 19-, and 20-year olds to behave is more easily prescribed than followed because the Georgia locker room is the most popular frat house on any college campus right now. All SEC states have an outsized passion for football, and it must be glorious to help usher in an era of dominance the fanbase has never experienced before.
Well, publicity comes with a price — earned yet arguably unfair — and that's just how it goes. Whether Kirby Smart is OK with the reputation hit that accompanies this kind of coverage, or if it will take any sort of negative toll on his program, who knows.