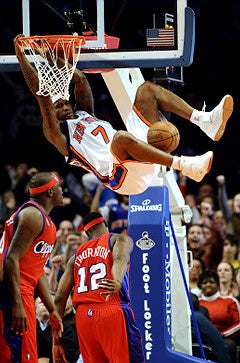 For the second time in six weeks, Al Harrington nearly won a game against the Clippers, then immediately gave it back with an overeager celebration. See, this is why the Knicks can't have nice things.
Harrington dunked home what could have been the decisive points last night with 27.9 seconds left, but then got called for a technical foul for hanging on the rim. Down by three, the Clippers were able to use the extra free throw to tie the game and force it into overtime, where they won 140-135. It was a nearly identical repeat of the game on February 11 (also against the Clippers) when Harrington dunked to put the team up by three, slapped the backboard on the way down, got called for a technical, the Clips tied the game and won in overtime.
On the other hand, former Knick Zach Randolph also scored two points for the wrong team during the first half so I guess the incompetence works both ways.
The New York Daily News called last night's debacle "by far the Knicks' worst loss of the season," but that doesn't really seem fair. Surely some of the other 43 losses were pathetic enough to compete for that title. Don't sell these guys short!
Al Harrington's technical foul sinks Knicks in overtime loss to Clippers [NYDN]
Clippers/Knicks Highlights [NBA.com]