Los Angeles Lakers coach Byron Scott is tasked with managing the obligations of the Kobe Bryant Retirement Tour alongside the imperative of developing the young talent on the roster. We can acknowledge that this is a difficult balancing act, while at the same time recognizing that he has completely failed at it.
Early in the season, Scott yanked around second-overall draft pick D'Angelo Russell with little explanation, at one point curiously indicating that he didn't feel he could play Russell in tight fourth quarters or blowouts.
More recently Scott has had to confront the reality that Kobe Bryant is undeniably one of the worst players in the NBA, and that he's chucking shots at a historic rate for a player who shoots so abysmally. This has stagnated Russell, Julius Randle, and Jordan Clarkson's development, as they're being forced to learn in an environment where they mostly dump the ball off to a creaky mummy and stand around and watch him miss.
Scott's solution? To prioritize the desire of his former superstar to shoot 5-19 every night over the Lakers' future. Two nights ago he moved Russell and Randle out of the starting lineup, and declared they'd only be getting 20-25 minutes a night moving forward. Russell and Randle sounded angry and baffled:
Randle said he wasn't given any real explanation. When asked whether he believed the change was because of how he has performed, Randle said, "I don't know, man. It's not my decision, so I don't know."
[...]

"I feel like I was starting to figure it out, then this happened," Russell said. "But I don't feel like it's something that's going to get in the way of my growth. But it is what it is. I can't do anything about it."
G/O Media may get a commission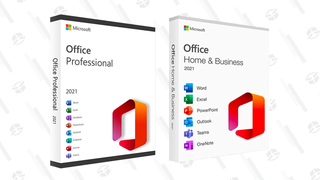 89% off
Microsoft Office Professional 2021 Lifetime License
Russell and Randle came off the bench again tonight, but as the game progressed a strange thing happened. They each played every minute of the fourth quarter and overtime of the one-point loss to the Timberwolves, racking up 32 and 33 minutes respectively (and one overtime-forcing bucket). And after Kobe checked out with 3:56 left in the third quarter he didn't see the court again, logging just 25 minutes overall, his third fewest of the season.
So what gives? Did Scott finally come to his senses?
Nah, of course not, Kobe told him to.
Scott had the right idea initially, but executed it incorrectly. Russell, Randle, and Clarkson need to play heavy minutes together, as far away from Kobe's influence as possible, ideally including the fourth quarter. The best way to do that isn't to put the youngsters on the bench, but Kobe. He can still play 26 minutes a night from the bench, the majority of it alongside fellow chuckers Nick Young and Lou Williams. Hell, he can even start and play the first few minutes just to get that PA address shout out. But the obvious imperative has to be whatever is in the best interests of the Lakers' future, not Kobe Bryant.
A popular conspiracy theory posits that Scott and/or Lakers manage is intentionally playing Kobe so heavily in order to tank and keep their top-three protected pick away from the 76ers, but that makes little sense. After all, it's not like catering to Kobe's whims is a new impulse for the organization. More importantly, doing so would be disastrously shortsighted.
Next summer the Lakers will have a boatload of salary cap space, but so will almost everybody else. And as we've see the last few seasons, the allure of large markets has lessened, and players seem to be turning down the brightest lights to sign with more competitive teams. If the Lakers have any shot at Kevin Durant, Andre Drummond, Al Horford, Dwayne Wade, or any other top free agents, they'll have to prove they can be a good team. The only way to do that is for Randle, Russell, and Clarkson to show tremendous growth this season, which is next to impossible with Kobe flinging away their opportunities.
Finally, belatedly, it seems like Byron Scott recognizes this:
This is undoubtedly good for the Lakers, but it's astonishing that it took an intervention from Kobe Bryant for Byron Scott to see the light. Alongside the rest of Scott's bizarre strategies and even more bizarre explanations for them over the past two seasons, it'd be astonishing if he's still the Lakers coach next season.
Photo via Getty

---
E-mail: kevin.draper@deadspin.com | PGP key + fingerprint | DM: @kevinmdraper