Last night, in what was a fairly terrific basketball game, the Heat defeated the Lakers, or LeBron defeated Kobe, and it mattered.
But then Kobe decided to go back on the court after the game ended. He took some shots. Had to work on his game. You can, if you want, write the stories yourself, but if you're the masochists we are, read on for a sweat-and-venom kiss with the Black Mamba.
We read stuff like this, from Dave McMenamin:
It was time for Kobe doin' work, after doin' work.

"I just wanted to work on some things," Bryant told a pack of reporters who waited and watched his nearly hourlong workout. "I just wanted to work on my game."
In a surreal scene that encapsulated Bryant's reputation as being wholly dedicated to the game, Bryant completed a series of extensive shooting drills, working in shots off the dribble along with catch-and-shoot 3-pointers and free throws.
G/O Media may get a commission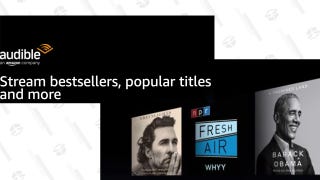 FREE
Audible Premium Plus 3-Month Free Trial
The first sentence of that third graf is the real gem—McMenamin knows Kobe's toying with him, and yet! Oh, the shooting drills! The ESPNLA scribe wasn't so restrained on Twitter:
Kobe is so lathered up he just mopped up the pool of sweat that dripped from him and fell on the floor where he's shooting at the foul line

Safe to say that the about 60 people in this nearly empty arena as the clock ticks towards midnight have a new favorite Kobe Bryant memory
Here's Tim Reynolds, of AP:
Kobe Bryant stood on the Miami Heat's court, his shirt completely soaked. Sweat dripped onto the floor with his every step. He bent over at the waist, hands on his knees, breathing heavily.
[...]
"It's my job," Bryant said.
[...]
As it was emptying, a woman shrieked, "I love you Kobe."
Bryant didn't even seem to notice, nor did he look when a man yelled, "Go home."
Last call didn't mean last shot for Bryant. Not even close. By the time his teammates were likely having dinner on South Beach - Heat reserve Dexter Pittman said on Twitter that he was at a swanky steakhouse around the same time as Bryant's workout began - the five-time NBA champion was doing work.
"Just tweaking things," Bryant said.
And Reynolds' Twitter feed is soaked too:
I'm at a red light so I can tweet this. The wife is unhappy that I'm not home at this hour. Thanks, Kobe.

Thanks to Kobe, I'm leaving the arena at 1:21 a.m.

Workout is done

More than an hour into Kobewatch. Still getting lift. Still getting rotation. Just sick.

Going to answer a lot of tweets at once. Kobe couldn't give a damn that we're out here.

Kobe still going. This is incredible. We're watching a guy shoot. And shoot. And shoot. And he could care less.

Kobe back to post moves. http://yfrog.com/h42trgfj

Kobe still doing work, 35 minutes at least and counting. http://yfrog.com/h2ym0dgj

Kobe yawning after some free throws. Rest of his team probably having dinner on South Beach by now. 11:01 pm, he's getting shots up.

Kobe is on the court shooting. Left wing jumpers. An hour after the game ended. Got to be 200 people scattered about watching.
Oh, what a whimsical thing, hagiographies like these. Erick Dampier and Mike Bibby will be laughing about that all night at the strip club! Wait, what?
Kobe Bryant shoots around postgame [ESPN LA]
Kobe Hits the Court in Miami - Long After Loss [AP, via ABC News]