Tony Kornheiser, some guy who hosts a TV show and a radio show (on Dan Snyder's WTEM!), thinks that blogging and tweeting "so, so diminish the craft and nuance of writing." Well, that's rich.
From Kornheiser's radio broadcast this a.m. (listen here):
Look, of all the things that I have done in a career of being a sportswriter for a long period of time — I know I yodel now, but I used to be a legitimate person who went out and wrote, didn't blog, didn't just sit there and give my own opinions on what I was going to eat for breakfast, didn't tweet, didn't do any of these things that so, so diminish the craft and nuance of writing...
For starters, Kornheiser, who was a Pulitzer finalist in 1997, functionally quit his well-crafted and often-nuanced column at the Washington Post when ESPN came calling. Then he actually quit it in 2006, when ESPN put him on Monday Night Football (where he gave lots of analysis lacking in craft and nuance and where he lasted three years before being replaced by this guy, Jon Gruden). Maybe you could say he was busy, or something — but he still found the time to keep his radio show on the air. And he hasn't written since leaving the MNF gig.
Instead, he's said some things on his radio show about Hannah Storm, Chris Berman, and cyclists. These thoughts were entirely devoid of craft and nuance. Maybe it's the medium's fault, sure. But if he were such a fan of craft and nuance, wouldn't he have found a gig writing with craft and nuance about sports somewhere? It doesn't even have to be on the craft-hostile and nuance-free internet!
G/O Media may get a commission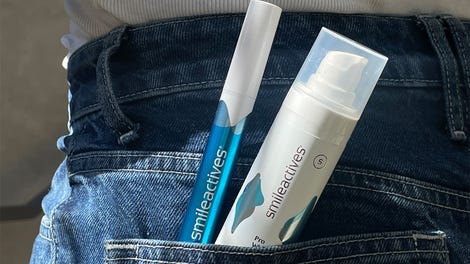 58% off
Whitening Powerhouse Pen & Gel Duo
Even worse is that his show broadcasts on a station owned by Dan Snyder, a telemarketing maven who aspires to destroy a local paper whose Dave McKenna has a fuckton of craft and nuance. But Kornheiser has a long history of bullying writers, chief among them McKenna! (Also among them: Jay Mariotti. Yeah, we feel weird too.) Kornheiser won't let people talk about Snyder on his show, which is damn un-nuanced of him, and in general he has thrown in his lot with an actual enemy of the journalism Kornheiser used to practice, before he became such a boring old crank.
This isn't just a Murray Chass situation, in which some geezer ignores or refuses to understand what's on the internet. Rather, Kornheiser willfully gave up craft and nuance for some serious Disney cheese. That's fine. That's his prerogative. But shut up.
Oh, and he had an unwatchable CBS sitcom made out of his life. This sitcom lacked craft and nuance. Remind you of anyone?
[H/T Dan Steinberg, who first noticed the quote and pointed us in the right direction.]