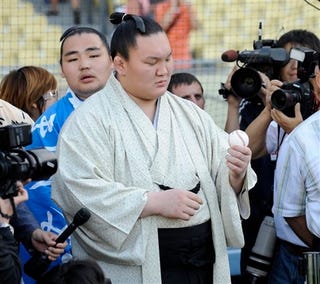 This lissome fellow is Mongolian sumo wrestler Hakuho, who looks to be contemplating where to start peeling the foil off the hardball to get to the chocolately goodness within. I've tried Hakuho, it's pretty low-grade stuff. He was one of a group of sumo on hand to watch the Dodgers Hiroki Kuroda do Nippon proud with a complete game four-hit shutout over the Cubbies in which he fanned 11, also leaving fellow countryman Kosuke Fukudome hitless. Kuroda so confounded Derrek Lee that Lee broke his bat in frustration. Hey, those don't grow on trees, Derrek. They grow in them.

Bucs Caught In Webb of Defeat - Sorry. That Brandon Webb fellow wins a lot, so you'll excuse the diminishing amount of clever headlines to accompany his victories. He picked up no. 11 by allowing only one run on three hits in seven innings of work yesterday in a 3-1 D-backs win over the Buccos. The Pirates didn't get a hit until the 5th inning, which sounds like it's par for the course for them.
Kazmir Quiets Rangers, Ape - I might have been kind of harsh in my criticism of Scott Kazmir's spring training optimism. The Rays' ace improved to 6-1, holding a Rangers team that had scored eight or more runs in their previous six games to two runs in his eight innings of work. B.J. Upton, Dioner Navarro and Eric Hinske homered to provide Scott with a bit of run support in the 12-4 win.