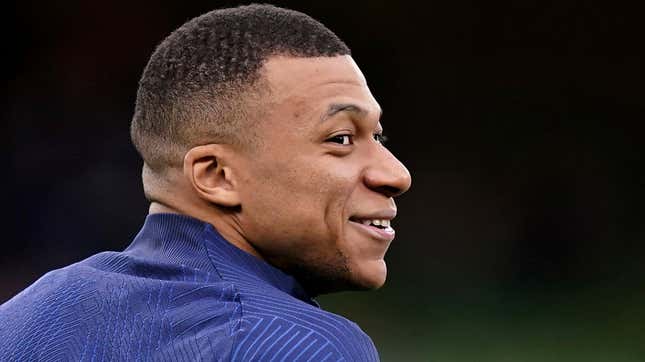 Some transfer/trade/free agency stories go on for years, which is what it appears Kylian Mbappe is intent on creating. We all knew about LeBron James's first free agency three years beforehand as ESPN turned it into its own Odyssey. And his second one a couple years before. Kevin Durant's next destination is seemingly always a bigger story than his current one. Remember how long it was a foregone conclusion that Bryce Harper was going to be a Cub? Whoops! But who could know the Ricketts family would then turn into Bob Nutting…except everyone. Tom Brady did this dance for a few years too, while sprinkling retirement into it just to give this annoying stew another kick.
Can Liverpool Win The Quadruple? | What You Need To Know | FA Cup
So here we are again, with Mbappe sending PSG, and most of France into a panic yesterday by announcing that he won't pick up his option for the 2024-2025 season, meaning that he is now heading into the last year of his contract. And PSG have made it clear that they won't lose him for free next summer when he can walk as a free agent. So if he won't sign up, they'll ship him out now. And then Mbappe today is playing his hand by saying he's very happy in Paris and will play for PSG next season. Which PSG just outlined that he won't. French soap operas are everything you'd thought they'd be.
Now I can't make ya do it!
This will turn into the most annoying game of chicken one can imagine, only because we've done this before. Also, a French version of chicken is by definition more annoying. The last time Mbappe eyeballed PSG and did the "Guess I'll just go to Madrid.." while leaning his head out of the door, PSG essentially made him GM of the club, and let him hire his own coach. Whom they just fired. He also, reportedly, tried to force Neymar out of the club, and wanted, or had, a say on transfers. It all ended as it always does for PSG — kind of loping to another Ligue 1 title that they at least threatened to blow while also getting dumped on their ass by the first real team they ran across in the Champions League (after finishing behind Benfica in the group stage).
So Mbappe can't really make another power play within the club, he has all the power already, so now he's going to put his bag on the table to get power outside of the club.
The thing is, PSG can't physically force him to leave this summer, no matter how much they'd like to. What Mbappe wants, or is hinting that he wants at least to gain leverage, is to become a free agent, which would open the pool of teams he could then sign for…while also probably boosting his wages too. Not having an exorbitant transfer fee attached to what will still be galactic wages will make him more attractive to teams.
You can't make someone love you
And Mbappe might feel he needs to do that because right now it's hard to picture who exactly his suitors are. Real Madrid are reportedly once again being wooed into making a huge bid and feed their ego of the biggest transfers possible while also looking like the high school nerd who happily does the prom queen's homework again. Except…Madrid already have a pretty useful piece playing on the left side of their attack in Vinicius Jr. Either he or Mbappe could flip to the right side, neither are central strikers which Mbappe has made very clear, but it wouldn't be either's best spot. Maybe for someone like Mbappe, you make allowances.
Madrid just splashed $111 million on Jude Bellingham, and are in need of a replacement for Karim Benzema. Again, Mbappe has made it clear he really only likes playing off the left, which means he's not filling Benzema's boots, at least not happily. That's why there are more than just passing Harry Kane rumors, who himself won't come on the cheap. There are a lot of hurdles here, let's say, though none too big, or too stupid for Madrid to not at least try to overcome. This is what they do.
Beyond Madrid, any other club might struggle to afford both Mbappe's transfer fee and salary. Man City aren't going to do it, at least not under Pep's watch. It's beyond Munich, or any team in Italy. Barcelona can show up to PSG offices, turn their empty pockets out while making some vague reference to another lever, and get booted right into the Seine while PSG make a joke about "pull this lever." Liverpool aren't in the Champions League, have three left-sided attackers already, and didn't want to smash their transfer record and salary structure for Bellingham, who plays a position they need much more than another forward. Chelsea…just thought we'd throw that in for a laugh.
Which leaves the freshly-Qatar-acquired Manchester United, who also have their own gifted left-sided attacker in Marcus Rashford — who bailed their ass out this season — though one gets the impression that United wouldn't have much issue moving Rashford over to the right to accommodate Mbappe and to enter their new sportswashing phase with the biggest splash possible.
But that's basically the list right now. Maybe the list only has to be Madrid-long. But, if Mbappe can force himself to free agency next summer, it allows time to see what United become, or for Chelsea to maybe actually get their act together, or whatever financial and rules-hurdles Barcelona have to navigate to just sign him on a free transfer become clearer, and easier, or (let's have another laugh) Newcastle to prove they're going to be a Champions League contender under their own Middle Eastern ownership. Fuck, on a free transfer maybe Juventus line themselves up for future point-deductons, and penalties.
PSG would probably like to start over, and do it right this time, and take whatever they can get for both Mbappe and Neymar and then build something like their blood money counterparts in Manchester, and whatever Newcastle become. But, if Mbappe doesn't want to go until he's good and ready, it's going to get pretty sticky. One can't really see PSG making Mbappe train with the youth teams in the hopes of forcing him out or something (though please let this happen).
At least we're all rehearsed at how this goes.
Follow Sam on Twitter @Felsgate.