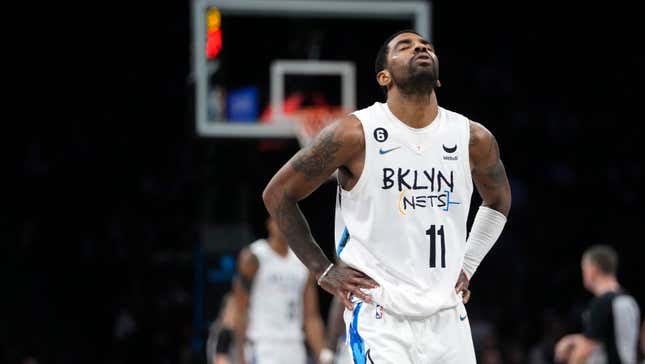 Brooklyn Nets heat magnet and resident conspiracy theorist Kyrie Irving wants the team to deal him elsewhere prior to the NBA trade deadline or he'll leave as a free agent, as reported by ESPN's Adrian Wojnarowski and The Athletic's Shams Charania.

Grant Hill looks to repeat Team USA's 2004 "success"
Irving, 30, had previously requested to be sign-and-traded ahead of the season, according to Woj, citing sources. The guard is in the final year of his four-year $136 million contract with Brooklyn.
"Here's Brooklyn hoping to get Kevin Durant back, perhaps even before the All-Star break, but at the latest, right after the All-Star break, and thinking they have an opportunity, a window to make a run with this group, and now Kyrie Irving has asked the Brooklyn Nets to be traded ahead of Thursday's trade deadline," Woj said while appearing on ESPN programming.
Irving, the mercurial point guard who was No. 3 in our 2022 Idiot of the Year list, is currently averaging 27.1 points, 5.1 rebounds, and 5.3 assists per game for Brooklyn (31-20). The Nets are 4-6 over their last 10 and sit in third place in the Atlantic Division.

His teammate Kevin Durant previously requested the Nets trade him back in June.
Where Irving goes — and what team would want the headache — is still up in the air. According to Woj, Irving hasn't given the Nets a list of teams he'd like to be sent to, but is interested in joining the Lakers. Los Angeles is 25-28 and out of a playoff spot.
Soap opera drama
As I'm sure you remember, in since-deleted messages on his social media, Irving promoted the book and documentary Hebrews to Negroes: Wake Up Black America, which pushes several lies about the Jewish people and their mistreatment of people of color. Nike subsequently suspended its relationship with Irving, who later declared he was "free."
He didn't apologize until after the Nets suspended him for eight games and the Anti-Defamation League rejected his donation.
Irving is also a known flat earther, and anti-vaxxer, claiming his stance on the COVID-19 vaccine cost him over $100 million.
"I gave up four years, 100-and-something million deciding to be unvaccinated and that was the decision," Irving had said at Nets media day in September. "[Get this] contract, get vaccinated or be unvaccinated and there's a level of uncertainty of your future, whether you're going to be in this league, whether you're going to be on this team, so I had to deal with that real-life circumstance of losing my job for this decision."
In other in-season drama, the Nets fired head coach Steve Nash, and pursued Ime Udoka, who was suspended by the Boston Celtics for the 2022-23 season. Durant has also spent time off the court dealing with injuries.