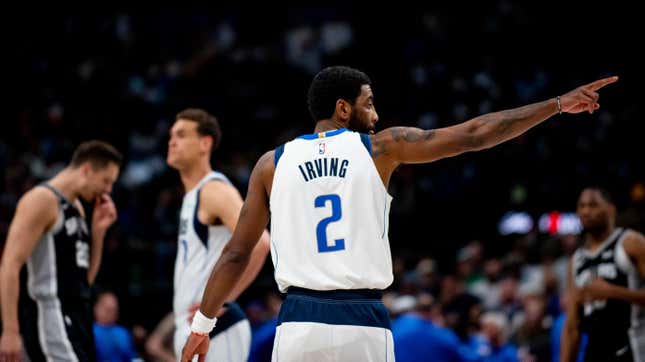 It turns out that Kyrie Irving, the NBA's foremost flat earther does believe in the Suns' rotation. So much so that he's considering joining it. At least that appears to be the case if there's any veracity to Bleacher Report's Kyrie code talker Chris Haynes' report on the 31-year-old free agent's scheduled meeting with the Phoenix Suns once free agency commences on June 30.
Which Team USA player will have the most success this NBA season? | Agree to Disagree
Irving as a Sun sounds like an even more outlandish basketball and social experiment than Chris Paul on the Warriors. And yet, it won't happen. It's also a stupefying thought that would only make sense in superfan fiction. The Suns only have DeAndre Ayton to offer in a hypothetical trade. But Phoenix is flush with heliocentric backcourt constellations whereas Irving needs to be the center of any offense he buys into. Besides, the Suns are currently hard-capped at the salary-cap apron, which will be set at approximately $172 million, which would prevent them from making a sign-and-trade for Irving.

Bradley Beal, Devin Booker, and Kevin Durant are owed a combined $131 million, just $5 million below the cap for next season. Throw in DeAndre Ayton and that figure pushes them past the $165 million luxury tax. That's not even a full starting lineup yet. The Suns currently have $176 million with a handful of players on their roster. Nobody is falling for this Suns illusion Irving is casting.

The motives for Irving's camp putting out these rumors is painfully transparent. Phoenix's backcourt is already bursting at the seams with talent. If Irving is trying to leverage the Suns against Dallas, it's not going to work.
The slightly less dubious dash of Kyrie free agency scuttlebutt dropped in early June when Haynes also reported that Irving was the Houston Rockets backup blockbuster signing in case they were unable to land James Harden. The market on Irving appears to be dryer than the surface of the moon. Of course, Irving is skeptical of both facts so that may not be registering with him.

The only team that is all in on Irving appears to be the Dallas Mavericks, who have done everything short of groveling at his feet. The maximum contract Irving can sign this season is a five-year $273 million extension with them and four years worth $201.7 million if he signed elsewhere. Dallas would be negligent to offer Irving the full five-year max with no protections. The last thing any team wants is Irving quiet quitting midway through a four- or five-year deal. Yet, Irving is likely doing everything possible to milk the Mavericks for every penny knowing he has them over the barrel.

Haynes is an excellent reporter, but almost everything he's been fed by Irving since demanding a trade from the Nets has been a misdirection. Someone in Irving's camp is feeding Haynes and others scoops related to his impending free agency in an attempt to drive up interest and the Suns appear to be trolling. Earlier this month, Haynes reported that the Mavs and Irving reached out to the Lakers about acquiring LeBron James and were preparing to make an offer for James before the trade deadline until realizing the NBA's all-time leading scorer was ineligible to be traded at the time.

Harden has allegedly been reading from the same book on negotiations as Irving and has been using the threat of returning to Houston as a maneuver to drive the 76ers' price up. When that failed, he opted back in and demanded a trade. If you find yourself playing these carnival games, you're probably not a max player though. In the NBA hierarchy, Harden and Irving are only supermax players for desperate teams. And in the case of Irving, we're seeing a desperate player make desperate moves for one last big payday.

---
Follow DJ Dunson on Twitter: @cerebralsportex