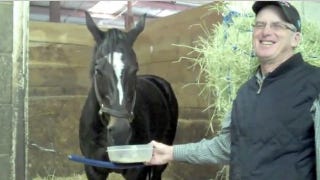 For all the talk about Zenyatta possibly being the best racehorse ever, what was left out of the debate was her equability to keep a diary. Entry #261 was posted on Zenyatta.com today. Here's a portion of what she had to say:
Thank you so much for all of the kind messages you have sent ME offering congratulations on my IN FOAL news! Dottie and John were reading them last night and told ME about them! I am still chuckling at the cute names all of you are suggesting.

I also thought it was TOO CUTE when you referred to ME as having a BABY BUMP! I'm still giggling over this comment! And a name that is still making me smile is WINK WINK! How precious is this! ...

With Love,
Hugs to all~(Especially my dear JOHN on his birthday!)
Z
Congratulations, breeders.
Diary Post #261 [Zenyatta] (H/T Ryan B.)
Zenyatta carrying foal by Bernardini [Fox Sports]
Is Zenyatta the best racehorse ever? [60 Minutes]