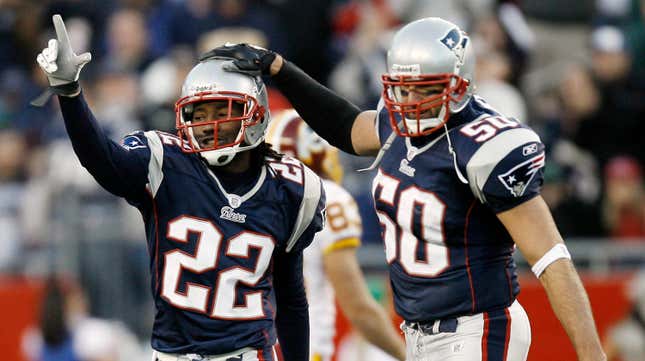 Ever since Tom Brady left New England, it feels like the shine has worn off the legend that is Bill Belichick. Suddenly, "the hoodie" is catching strays from all directions, including former players. Asante Samuel posted a warning to Lamar Jackson on Twitter about playing for Belichick.

Is Bill Belichick past his prime? | Agree to Disagree
Say what you will, but Samuel did play five years for Belichick and should know that system as well as anyone not named Tom Brady. This isn't Samuel's first time speaking out against Belichick and the "Patriot way." Samuel went on the "I Am Athlete" podcast last year and blasted Belichick over the Patriot way and a contract dispute while in New England.
"Some of them be brainwashed with that Patriot Way. I ain't going for none of that. I don't know what no Patriot Way is," Samuel said.
"I'm here to get money, take care of my family, the same way Belichick is here to take care of his family, get his money," Samuel expressed. "So when you try to hold my money back, and you want all your money, I ain't got no respect for you."
It should be noted that Samuel was drafted by Belichick in 2003, played five years on a rookie deal, then was franchised for a year before heading for greener pastures with the Philadelphia Eagles. So, this is absolutely personal with Samuel, where Belichick is concerned. So, Jackson should probably take his tweet with a grain of salt and consider the source. That doesn't mean Samuel is entitled to his opinion. It only means Lamar can take that however he deems necessary.
If we're going to be objective, Belichick's defenses are usually pretty damn good. They handle their business which is to be expected. Belichick might be the greatest head coach in NFL history. And even if you disagree, you can't deny him the crown of best defensive coach/game planner this league has ever seen.
Belichick isn't in this game to be loved. His goal is winning, and he's done that at a higher clip than any other NFL head coach. Realistically we know this isn't going to happen. There's no way Belichick will commit to paying a player what Jackson is reportedly expecting. It doesn't matter how close Meek Mill is with Patriots owner Robert Kraft. Brady never had a huge deal with the Pats. So, to expect another QB to come in and get over $200 million guaranteed is absurd. It's a nice thought and would make New England a true contender again, but it's not happening.
---