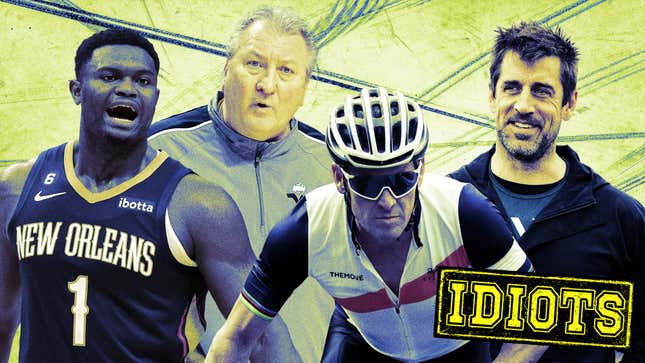 Welcome to Deadspin's IDIOT OF THE MONTH! Free will is an illusion and nothing matters.
5. Zion Williamson and Moriah Mills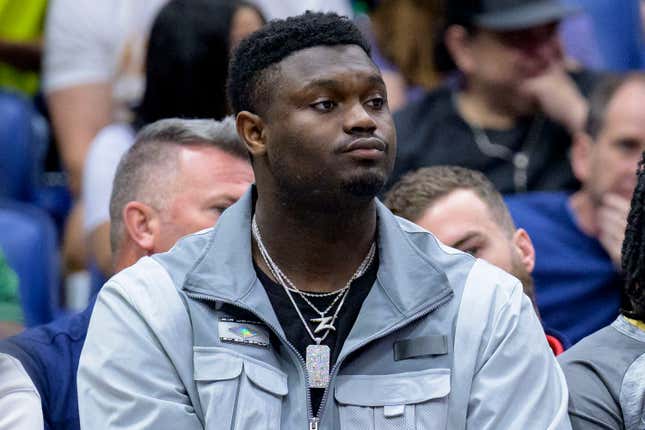 Zion Williamson and Moriah Mills are a match made in contemporary celebrity culture's hell. Not long after Williamson revealed he and his high school sweetheart girlfriend Tiana White were expecting a child, porn star Moriah Mills exposed Williamson's infidelity in a series of explicit tweets. To say Williamson has been unfaithful is an understatement. Mills even brought receipts in the form of screenshots that painted Williamson in a grimy light. Mills clearly felt spurned by Williamson treating her like a jumpoff, but it's not exactly clear how a 30-year-old porn star who admits she was being paid a 100k monthly allowance to be a 22-year-old NBA player's secret "girlfriend" expected this to have a fairytale ending.
Meanwhile, the ordeal made Williamson look like a dweeb and a dirtbag. In the midst of her rant, Mills also called Williamson out as a sex addict, and she might not be far from the truth there. Williamson keeps finding himself in these situations. Despite being with the same women since high school, Williamson has been recklessly chasing women in these social media streets. After all, this is the same guy who was getting his business put on front street while asking UNC coeds out on Snapchat while he was at Duke. Williamson hasn't learned much since then and appears to be enjoying the trappings of superstardom too much.
Over the years and in the last few weeks, multiple women have come forward to claim Williamson connected with them on social media and used them for consensual sex. Williamson has never been accused of being anything more than a horny nitwit though, but he's got to develop his frontal lobe to avoid the positions like the one he now finds himself in with Mills that's made him a laughingstock.
For almost the entire month of June, Mills inundated all of Twitter with all the personal information we never needed about Williamson's sex life and has been on a month-long rampage bordering on corrosive obsession. What started out as an instance of a woman scorned reached its boiling point when Mills threatened to release an explicit video of herself and Williamson if the Pelicans didn't trade him before the NBA Draft. Ironically, in doing so, she may have tanked his trade value while rumors swirled he would be shopped for a top-3 pick.
Twitter, which frowns more upon threats of revenge porn, and blackmail than it does its online bigotry, quickly suspended Mills' account. It should have ended there. Instead, Mills kept the attention-seeking stunts going by posting a video to Instagram of herself getting Zion tattooed on her face and has since claimed to be pregnant. If it's true, her gender reveal video will undoubtedly be turned into stomach-churning original content. The commodification of her personal life has probably been a boon for her name recognition and by extension, her OnlyFans (no, I won't link to it) and reminds me of the recent "Joan is Awful" Black Mirror episode in which a woman's daily life becomes content for an A.I.-produced hit streaming show. Well, here we are. Zion and Moriah are both awful.
Zion may have started this as the chief idiot in this entanglement, but Mills has been steadily doing everything she can to outdo him by making him, and herself look like fools online. We'll have to call this one a tie for now. Maybe none of this would have happened if Williamson had broken things off with Mills long before announcing his long-time girlfriend's pregnancy to the world, but Williamson wasn't thinking with his right mind. The real victim in this is Tiana and his unborn child who didn't do anything to earn this negativity.
4. Lance Armstrong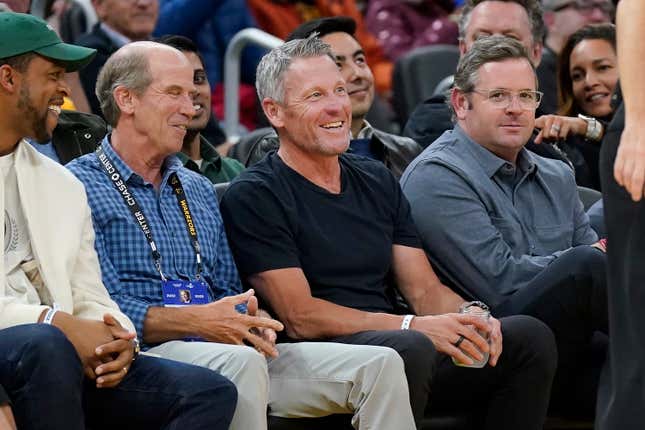 There has to be an island, preferably one without wifi, that society can relocate Lance Armstrong to, right? Elba, Easter Island, the one where Tom Hanks was shipwrecked, some locale where he can disappear never to be heard from again. Seriously, remove his cameo from Dodgeball as Spider-Man did with the Twin Towers.
Armstrong has repeatedly poked his head out of his ass since getting canceled before the term even entered the American vernacular, and it's usually to promote a podcast like every other person who thinks their vocal cords are a gift to humanity. In June, he decided to tackle the issue of fairness in sports as it relates to transgender women.

Yes, that's right, the guy who's synonymous with blood doping, has some thoughts on what's fair. Judging by his moral compass, I'm surprised he didn't don a wig and stuff a bra in an attempt to enter the women's Tour de France after being exiled from the men's side. The only good to come of this is fodder for slideshows about morons — which, hey, that's what this is.
3. Aaron Rodgers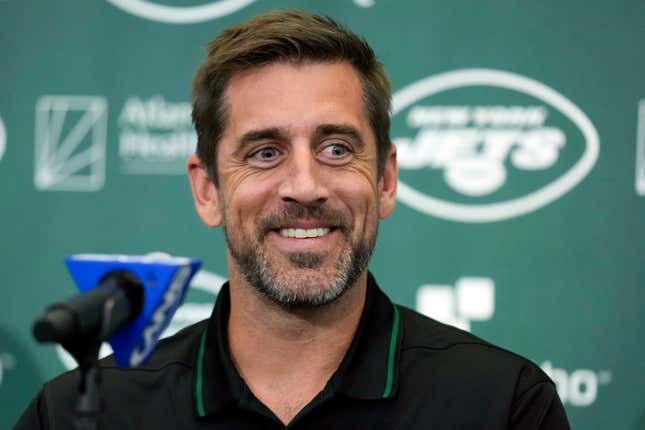 After going on a darkness retreat earlier this year, Aaron Rodgers emerged from his fortress of solitude hell-bent on making his way to New York, and becoming the NFL's spokesman on psychedelic drugs. Rodgers got his wish and was shipped to New York, and since then, he's been part of a panel at a conference in Denver on psychedelics. The conference was hosted by a psychedelic advocacy group, and Rodgers participated, giving his testimonial on how these drugs have impacted his life.
While Aaron has some experience with drugs like ayahuasca, surely there's someone better to disseminate this message. Rodgers goes into his cave for a few days and becomes an expert on psychedelics and hallucinogenics. He needs to be worried about not alienating his new teammates and winning a Super Bowl for the Jets. Not that you can't have outside interests, but so much of Rodgers is unauthentic, and disingenuous that it's hard to buy any of this crap he's spewed the last couple of years. Rodgers is like the drug addict who gets clean, finds god then preaches to everyone they see about the bible. We get it; you found something new that's changed your life. Enjoy all the ayahuasca you want while you lead the Jets to nine losses next season.
2. The guy who harassed Brittney Griner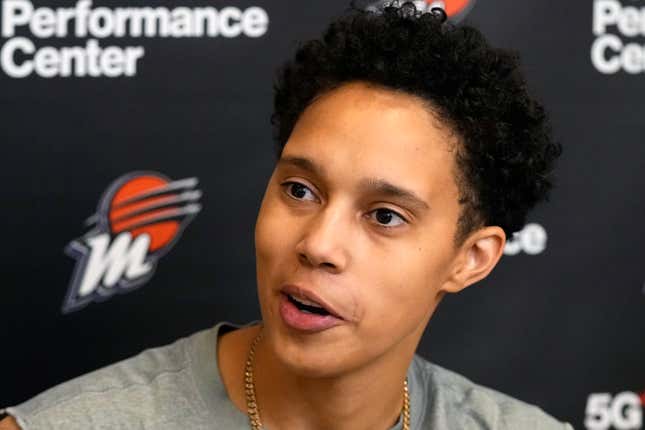 There are some disgusting human beings on planet Earth. Truly vile creatures who commit acts of unspeakable horror. The people who physically violate and/or extinguish the humanity of others are the worst of us. If that is the bottom of the human totem pole, just above those folks are people like Alex Stein.
While these vile creatures may not have the fortitude to physically attack another person, they value human life the same as a violent criminal. Stein is the type of person who views human beings not as flesh and blood with fears and feelings, but as vessels for his amusement, and to grow his influence.
This wretched creature approached Brittney Griner — who spent almost a year detained in Russia — at an airport and harassed her as content for his far-right YouTube page. He approached her and got within arms reach, which security should never have allowed. Stein then repeatedly made derogatory comments to Griner about being traded for Viktor Bout and having sex with Vladimir Putin.
How bold of him to approach a person at an airport who is still likely deeply scarred from the year she spent behind bars in a foreign land, and insult her. Big tough guy who claims on his YouTube page to be a person who "takes on the liberal world order with courage and humor."
Stein is the antithesis of courage. He is scum. A contemptible coward taking up resources on this planet and providing no value in return. A true stain on the human species. A person not interested in doing any good, and instead finds pleasure in bulldozing decency.
He is pollution that is far worse than fossil fuels or plastic. At least those are capable of powering cars and holding water. Stein provides no beneficial service to the planet in any way. He takes pleasure in degrading society.
A truly pathetic, vomit-inducing pile of feces.
1. Bob Huggins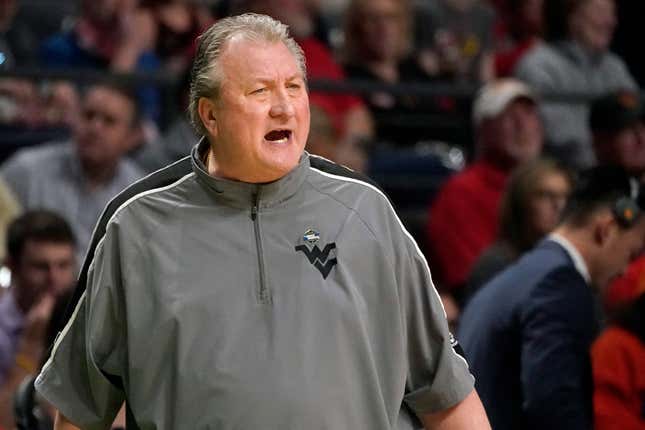 After Bob Huggins claimed the No. 2 spot on Deadspin's May edition of IDIOT OF THE MONTH for blurting homophobic language during a radio appearance, how bad he would have to fuck up in order for that positioning not to be good enough for the following month? Well congrats Bob! You win, because of a DUI arrest that led to you finally being ousted from your post atop West Virginia men's basketball. The Mountaineers' brass docked the 69-year-old Huggins' pay, suspended him, and changed some terms of his contract for the anti-gay language, but didn't completely remove him. And Huggins left at least partly on his own terms because of his most recent arrest.
The alleged incident occurred when Huggins' car was in the middle of the road with a door open and a shredded tire. After asking Huggins to get his car off the road, his sobriety came into play. According to a police report, Huggins blew a 0.21 on a breathalyzer, more than twice Pennsylvania's legal limit. Huggins stepped down from his post the day after his June 16 arrest, with several key players entering the transfer portal after his exit. Huggins' daughter, Jacque, then claimed part of the police report was fabricated with beer cans all over the car because her dad loves to recycle. This wasn't even Huggins' first arrest for a DUI as a D-I head basketball coach, as it happened 18 years ago when he was at the helm of Cincinnati. In what city was the radio spot conducted when Huggins said homophobic language? Cincinnati.
Huggins had long been a cult figure in college basketball, due to his success, and unique disposition. The fact that his career wasn't tanked two decades ago truly speaks to second chances, some that may not be given to others. Huggins ended up not retiring in a traditional way because of his own mistakes. The fact that he lasted this long in college basketball is pretty shocking. Sayonara.