The new FAU head coach said it best during his introductory press conference: "You don't get what you want, you get what you deserve."
Alabama offensive coordinator Lane Kiffin was hired Tuesday as the new head coach of the Owls football program. Considering the jumping and landing points, it should come as no surprise the 41-year old was forced to take a pay cut in order to regain the title of head coach. Per the Tampa Bay Times, Kiffin will make $950,000 in base salary; even if he triggered the $300,000 national championship bonus, he'd come up short of his current $1.4 million Alabama salary. But hey, it's not all about money. It's about him scoring the job he wanted (after first being rejected by Houston in favor of a man named Major Applewhite.)
Kiffin has been out of the head coaching game for three years now, thanks in large part to the fact that he was extremely bad in stints at Tennessee and USC, so much so that the Trojans AD fired his ass on the tarmac after a 62-41 loss to Arizona State in September 2013. Alabama scooped him up to be their offensive coordinator the following January, and he's been working overtime, cranking out dank offenses for Nick Saban the past three years.
During that time, Kiffin helped flip the Crimson Tide into an offensive juggernaut capable of hanging with any spread system in the nation, should the opponent somehow score against the Alabama defense. The unit retained its vaunted running game, producing a Heisman winner in Derrick Henry in 2015, but took major strides in its passing attack with quarterbacks Blake Sims and Jalen Hurts. Even so, with his contract set to expire this coming January, his time playing Saban's trusted but overlooked sidekick seemed at an end.
Despite boasting an impressive upgrade job on his résumé, Kiffin reportedly still found himself having to beg for attention, like a guy standing on the corner pushing his fire mixtape into the hands of anyone who walks by.
G/O Media may get a commission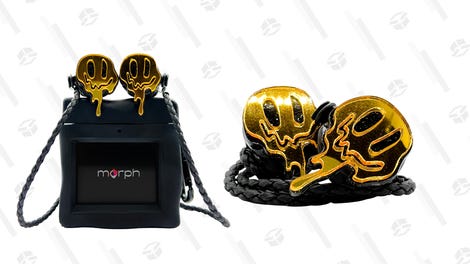 morph audio
Morph Earphones
According to USA Today, Kiffin's been haunted by his stints in Knoxville and Los Angeles ever since he left. The paper reports that his spot as a finalist for the Houston gig was the closest he's come to securing a head coaching job before FAU—Cougars board chairman Tilman Fertitta told ESPN Kiffin was "not a safe hire" and that he never showed him anything Applewhite didn't. USA Today added that previous attempts to land a head coaching gig were DOA, as "reference calls to people who worked at USC and Tennessee basically rendered him unhireable."
In his introductory press conference, which can be viewed in full here, Kiffin admitted that his "phone was not ringing very much after USC." He thanked Alabama head coach Nick Saban for hiring him, rebuffed the claims that his relationship with Saban has soured over the past three years, and claimed that had he not taken the FAU job, he'd be back in Tuscaloosa (getting his ass chewed out while up 28 points with 46 seconds left).
This, like him claiming not to vote USC No. 1 in 2012, also might not be true—according to USA Today, and other completely unsubstantiated rumors, his time as Saban's wing man was done one way or another come his contract's end.
Whether Kiffin arrived at FAU by choice or because he really had no other options is, ultimately, beside the point. What matters is that Lane Kiffin is finally at the helm of a program that can provide him with the spotlight he deserves: