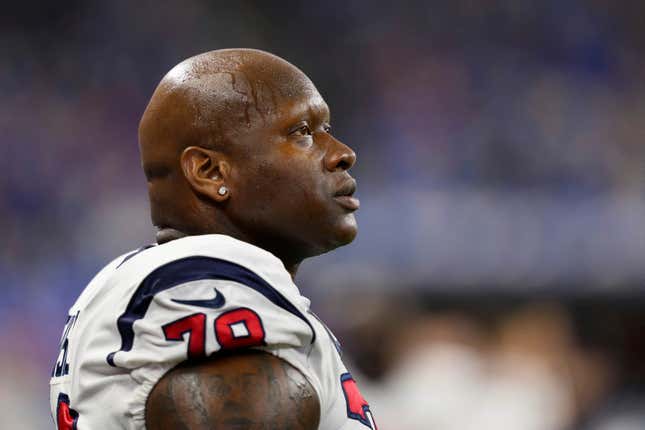 Lamar Jackson is not the only professional athlete with no agent. Last season there were 17 NFL players who represented themselves. The list includes Bobby Wagner, DeAndre Hopkins, and the highest-paid left tackle in the NFL, Laremy Tunsil.
5 Richest active NFL players | Money Mondays
NFL Network's Ian Rapoport reported on Sunday that Tunsil signed a new three-year deal with the Houston Texans for $75 million, $50 million of which is fully guaranteed. In representing himself, this is the second time that Tunsil has secured huge money without the services of a full-time agent.

That is certainly great news for whichever quarterback the Houston Texans select as the No. 2 overall pick in the NFL Draft. The organization may be a dumpster fire but at least a rookie quarterback will have some dependable blindside protection. Tunsil certainly seems to have put the stigma of his infamous gas-mask bong hit video behind him.
The Arizona Cardinals are currently looking to trade DeAndre Hopkins as they try to rebuild following a season in which the team toppled over during the first six weeks. Hopkins was suspended during that time for a violation of the NFL's performance-enhancing drug policy. The suspension was without pay, so of course, it stung. However, the pain was certainly minimized when he reminded himself of the massive overall extension that he signed. In 2020, Hopkins signed a two-year contract extension with the Cardinals worth $54.5 million, of which $42.75 million was guaranteed.
Having an agent can make an athlete's life easier. It keeps them from having uncomfortable conversations with their bosses. Also, those bosses will be having those tense conversations with a familiar person. A business suit and briefcase being the necessary equipment for a sports agent results in far less wear and tear on the body, and a much longer career than a professional football player.
All of that being said, the familiarity between those two parties can make athletes question whether or not agents are truly operating with their client's best interests at heart. Being that agents have long-standing relationships with front-office personnel, maybe they don't push as hard for a fully guaranteed contract as Jackson might want.
Clearly, most players are perfectly fine letting someone else do the negotiating for them. Far more times than not, the agents come away with an ideal contract offer. The agents doing all of that work then allow players to focus on being the best athlete that they can possibly be, and then spend the rest of their time on whatever they feel like doing.
That life isn't for everyone though. Some players would rather keep the money for themselves than pay an agent, others have a strong desire to do their own negotiating. They don't mind battling against their team's front office. Certain players have a hands-on approach to their careers and want to make every decision, every step of the way.
It's the road less traveled, but people should always have the option to choose how they navigate their own journey. As long as they aren't harming others, they shouldn't be judged for how they choose to live their lives.
If Jackson, Hopkins, Tunsil, and a handful of other players want to represent themselves in contract negotiations that's fine. It has clearly worked for Hopkins and Tunsil, so Jackson getting a deal that suits him is certainly not impossible.
There are many reasons why Jackson still has not received the money that he would like as the Baltimore Ravens' starting quarterback, and we NFL observers probably do not know most of them. But what Tunsil's new contract should prove is that athletes representing themselves do not inherently make teams less willing to budge in negotiations.