The Kansas City Chiefs are a disaster, obviously, but look on the bright side—it took permanently disgruntled RB Larry Johnson seven whole games to launch an embarrassing tirade against his head coach. I think that's improvement!
Jokic? Embiid? The NBA MVP is obvious... right? | Keep it a Buck(et)
Despite Johnson's heroic 49-yard effort on Sunday, his team got waxed by the Chargers. So he did what any athlete would do in Fall 2009, he fired up the old Twitter to let the world know that his coach is a buffoon. (Way ahead of you, LJ.) Everything sic, by the way:
"my father got more creditentials than most of these pro coaches. … google my father!!!!!!!"

"My father played for the coach from "rememeber the titans". Our coach played golf. My father played for redskins briefley. Our coach. Nuthn"
Actually ... is that even an insult? I'm not sure if knowing someone who had a movie made about them makes someone else qualified to be an NFL coach, but if the point is that you can't do much worse than Todd Haley has in his first year ... then point taken, I guess.
But Larry wasn't done there. He decided to get into it with some other people on the internet that he doesn't even know. And maybe call one of them a fag.
Jared Launius: Interesting comments by Larry Johnson ( @toonlcon ) about "coaches." Hey LJ, is it Haley's fault you fall when D-Linemen blow on you?

Larry: "@jaredlaunius Sorry ur a cornball n ur mom birthed u broke. But I'm cakn patna. While u work or school for 5 dollas n hour. Ha!"

Jared Launius: "Apologies. His Twitter alias is @toonicon whatever the hell that means. Probably something about spitting in women's faces."

Larry: "@jaredlaunius think bout a clever diss than that wit your fag pic. Christopher street boy. Is what us east coast cats call u."
G/O Media may get a commission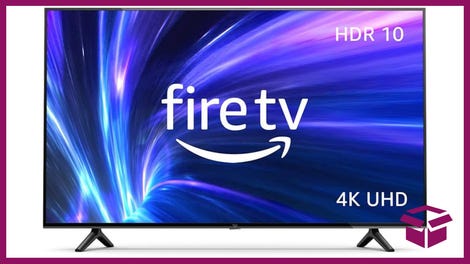 42% Off
Amazon Fire TV 50" 4K Smart TV
And still more:
"@DrewK30 got nuthn to do wit hiring my father. But u wouldn't know cuz u don't play either so keep on the sideline lil gril n cheer."

"@KD2407 then don't reply then. Still richer then u. Keep goin. Come play our game ooops forgot u can't."
It seems Larry's arsenal of comebacks pretty much consists of "I'm richer than you," which is admittedly quite persuasive. Let's see what else is on the Twitter Scandal checklist. Twitter feed turned to private and/or deleted? Check. Player's agent confirms that it's his feed, but tries to mitigate the damage? Check. So I guess all that's left is a fine and a fake apology before the week is out? And I don't know ... about eight or nine more losses for the Chiefs? (That probably would have happened regardless.)
However, when you consider that Johnson has not punched or spit upon anyone this season (that we know of!) and has refrained from recording any terrible rap songs, I'd say 2009 has been pretty successful.
Chiefs RB Larry Johnson Starts War of Words with Fans on Twitter [Arrowhead Pride]
LJ's Twitter page rips Haley, uses homophobic slur [Yahoo]
LJ's rant, the apparent shots at Haley, and what it all might mean for the Chiefs' locker room [KC Star]
Larry Johnson's dad has some advantages over Todd Haley [PFT]
UPDATE: Johnson in an effort to make the hole he's digging even deeper, tells Kansas City reporters entering the locker room on Monday to "Get your faggot asses out of here." Lovely. [PFT/Arrowhead Pride]