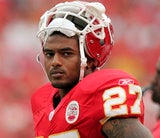 Chiefs running back Larry Johnson is awful sorry he called you all fags. He should have used a more acceptable term like "monkeybutts" or "dorkweasels" or even "boogermouths." Then maybe his bosses wouldn't have had to put him on suspension.
Johnson has been "barred from team activities" while they "investigate" his alleged use of anti-gay slurs against Twitter and other real media types. However, when you play in Kansas City ... is that really a punishment? Johnson, meanwhile, apologized to anyone who cared to listen "for the words I used." The yelling and the insults? That's all good, but he really should have chosen a different term of non-endearment.
"I regret my actions. The words were used by me in frustration, and they were not appropriate," he said. "I did not intend to offend anyone, but that is no excuse for what I said."
Well, that was to be expected. Now we just sit back and wait for the inevitable trade/deactivation/release. There's no point in him ever playing for the Chiefs again, but maybe his dad could use a new assistant. Like that guy in Rememeber The Titans!
Chiefs RB Johnson apologizes for gay slurs [Yahoo/AP]
P.S. But he was (maybe) nice to a little kid once, so forget all that other stuff you're heard. [Jocklife]