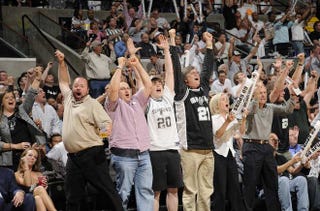 Either the world of NBA fans is going to collectively groan and try to work themselves up for yet another Spurs playoff series tonight ... or the Spurs' assault on our senses will perhaps finally end. Fingers crossed.
To make sure you're appropriately prepared for tonight's Hornets-Spurs Game 7 in New Orleans, The Grand National Championships has a hecker's guide so that you might effectively yell at your television tonight. A tidbit:
This is your NBA dynasty. A bunch of addicts, cheap shot artists, floppers, punks, and wannabes. They've brought the game back into the dark ages. I'm not writing this as a fan of the NOOCH. I'm writing this because this team has got to be stopped. I don't care if it gives Kobe another ring. I don't even care if it allows Boston fans to act like D-Bags.



The Spurs are all that is wrong with the on-court game of basketball. We can fade a lesser evil.
If you want to know what life is like for a soccer fan, watch the Spurs, and let your blood boil. Of course, this means they will win, and Chris Paul will spend the end of the game crawling across the floor after attacking Robert Horry's elbow with his throat.
The Guide To Hating Your Spurs [The Grand National Championships]