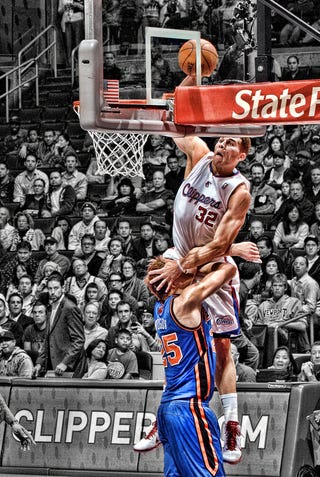 The All-Star Weekend Slam Dunk Contest participants have been leaked, and it's finally acceptable to get excited. Because Blake Griffin is here to make it relevant again, if only for a single year.
According to the LA Times, the field is rounded out by JaVale McGee and Brandon Jennings (not huge names but should be exciting to watch) and Serge Ibaka (meh). But, you could have three Nate Robinsons and it'd still be a coup for the league as long as the fourth guy is Griffin, who doesn't seem to realize that the regular season isn't just one long dunk competition.
To refresh your memory, here's a highlight reel of his top ten dunks. They would be impressive for a career, but Griffin's only started 34 games in his life, easily leading the league with 81 dunks. Even better, this video was only put together a month ago, so assume that half of these pale in comparison to what he's broken out since then.
No one remembers it this way, but the Dunk Contest hasn't really mattered in 20 years, when it was populated by actual stars. I mean, Clyde Drexler finished eighth in two separate years. Michael Jordan was already Air Jordan, he just needed to prove it to the world. And then, in the '90s, something happened. In a five-year stretch it was won by Cedric Ceballos, Harold Miner, Isaiah Rider, Harold Miner again, and Brent Barry. Yeah, party was over. The Three-Point contest was drawing bigger names.
But 2011 will be different. It will be watchable. Blake Griffin won't need creativity, he'll just need his freakish athleticism. Even the simplest two-hand putback is a thing of thunderous art for him. And he'll win, whether they're using the execrable fan voting, or the only-slightly-less-execrable alumni judging.
And then he'll walk away. By next year he'll be too big a star to risk getting hurt, and won't have anything to prove anyway. It'll be a one-year stay of execution for the contest, just like it received from a young Kobe in '97 or the Nate Robinson sideshow in '06. But we'll take it. A Blake Griffin dunk is a powerful and dangerous thing, like cocaine or a solar eclipse. You can't partake too often or too intently, or it'll damage your brains.