In sports, everyone is a winner—some people just win better than others. Like people who watch the Olympics not for the speed and grace of finely-tuned athletes, but because they enjoy blubbering like little girls over figure skating.
Many of those people are, in fact, little girls, but plenty of big girls and big boys were misty-eyed after last night's women's short program. Most emotional of all were probably the television executives who prefer to think of the Olympics as a two-week long soap opera filled with emotional turmoil, heartbreak, and redemption. It's not whether you win or lose, it's whether you overcame enough adversity to make your life story worth a three-minute interstitial package.
Well, those Olympics finally found its tailor-made "Olympic" moment in Joannie Rochette. Competing in her home country, in the showcase women's event, as one of her nation's last medal hopes after a disappointing string of failures, Rochette lost her mother two days before the event. She flew all the way from Quebec to watch her daughter perform in Vancouver and then suffered a heart attack on Sunday. Pretty rough would be an understatement.
So one of two things had to happen: Rochette would fall miserably and break a nation's heart, or she would skate the best performance of her life ... and break a nation's heart. She did the latter, silencing the notoriously judgmental skating analysts and leaving not a dry eye (or nose) in the house. She even made Scott Hamilton choke up and we all know that's not easy. And she gets to do it again tomorrow night. Heck, she might even win something. She's no Dan Jansen (i.e., American), but after 12 days of a lot of manufactured sap, we'll take any real emotions we can get. As cynical as we've become, these moments really are when the Olympics is at its best.
Honorable mention: Speaking of moms, can we talk about how offensive that Procter and Gamble Olympic campaign is? Not because it completely ignores the contributions of abusive, overbearing fathers in the creation of great athletes or glamorizes the most annoying tendencies of stage/soccer parents, but because the underlying message of every single ad is, "Thanks for supporting me, Mom. Now go clean my socks."
G/O Media may get a commission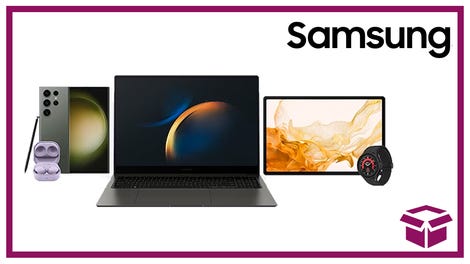 24 hour deals
Discover Samsung - Daily Deal
Laundry detergent is for ladies. Don't ever forget that.