In sports, everyone is a winner—some people just win better than others. Like fans of competitive ice dancing, otherwise known as people who enjoy Linkin Park, uncomfortable sibling romance and the Holocaust. The Olympics have something for everyone!
Ohtani has the WBC, but will Mike Trout ever lead the Angels to a championship? | Agree to Disagree
Ice dancing seems to hold a wider public fascination than the normal pairs figure skating because the costumes are sillier, the drama more... uh, dramatic, and other than the occasional "girl digs her skate blade into guy's thigh and stands up on him" it's more like the real life dancing that most drunk people have attempted at least once in their life. Plus, romance! Which is super awesome unless you're making out with your brother in front of the whole world.
Four of the ice dancing couples are actually a brother-and-sister act, including the Zaretskys of Israel, who are so unbelievably Jewish they danced to both "Hava Nagila" and the soundtrack from Schindler's List. Not in a weird way, though.
"On the ice, we don't think of each other as brother and sister," she said.
Well, she does a better job of blocking it out than most. Unfortunately, no one could block out the music of the sibling couple from Great Britain who chose Linkin Park as their backing music and were somehow not disqualified. In less than a week, we witnessed all that plus Russians dressed as Aborigines, French people dancing to Dolly Parton, and—believe it or not—Canadians winning a gold medal. Now I've seen everything.
G/O Media may get a commission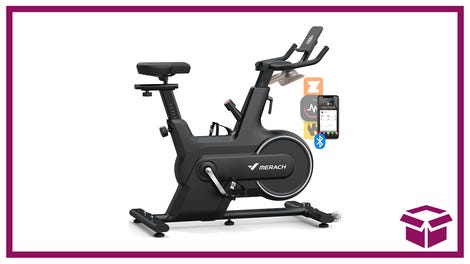 14% off + Coupon
Merach Indoor Cycling Bike
Brotherly love a required element for some skaters [AP]
Zaretskys' Olympic dance a tribute to their Holocaust losses [JPost]
The Night Olympic Ice Dancing Went Absolutely Crazy [Gawker]