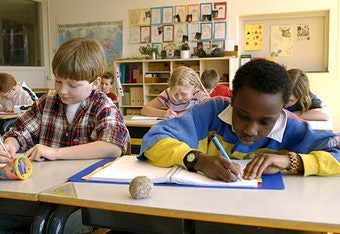 In sports, everyone is a winner—some people just win better than others. Like school children in Indianapolis who get to sleep in one entire hour on Monday morning, win or lose. Then they will totally learn stuff.
Sadly, for the kids, this is actually a compromise plan. The superintendent of the Indianapolis Public Schools originally wanted to give elementary students a two-hour delay on the day after Super Bowl Sunday since they'll probably need time to come down from their salty chocolate football highs. The state's Secretary of Education Tony Bennett (yeah, right!) had to be a party pooper though, and said that wouldn't count as a full school day. BY LAW they would either have to tack two hours on to the end of Monday's classes or make it up at the end of the year. What a buzzkill. So the school is giving them a one-hour delay, but also holding them for another half-hour at the end of the day, which is totally Facebook time, but whatever.
Bennett's brown nosing is seen by some as a bold stand against declining education standards that leave the children of America fat and illiterate and with no career options greater than school bus driver. Like the same Indianapolis school bus drivers who forced the district to cancel Monday classes the last time the Colts were in the Super Bowl, because so many of them called in "sick" that none of the kids could get to school. See? Football creates a giant spiral of stupidity.
Seriously, stay in school, kids.
IPS adjusts post-Super Bowl plans [The Indianapolis Star]
Excellence on the field, in the classroom [Palladium-Item]
Honorable Mention: West Virginia. Glad to see you took your administration's stern email to heart. Yeah, you classed it up, didn't ya?