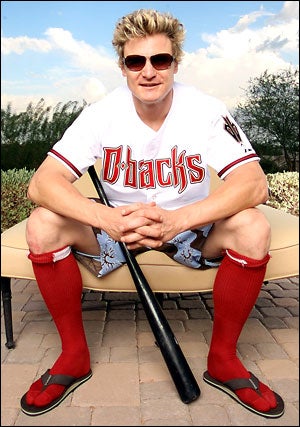 In sports, everyone is a winner - some people just win better than others. Like a California beer league softball team, which will have the services of the former major leaguer, without having to pick up that $11m contract.
So, can we pretty much agree that the Byrnes deal was the worst signing of the decade? (You're off the hook, Zito.) The D-Backs weren't big spenders, but they wanted to lock up their superstar outfielder after two great seasons. So they threw $30 million at him over three years, and he never got more than 54 hits in a season again.
The D-Backs released him in January, essentially saying we'd rather pay you the $11 million left on your deal to not play for us. Lucky for them, those free-spending, freakshow-building Seattle Mariners came a-calling, shaving a whopping $400,000 off their sunk cost. But his .094 average wasn't cutting it, and then, this, the worst suicide squeeze bunt you'll see:
So, Byrnes was cut over the weekend. But fear not, he's not out of the game altogether. Why, just last night, he suited up for a beer league softball game on a team sponsored by a Bay Area pub.
This is going to be a blast," he said. "Playing with my buddies. I can't wait for my first hit. I'm going to ask for the ball."
So everyone wins. The Dutch Goose softball team gets a teammate a bit more talented than the rest of the league, and who can probably pick up the tab for the keg at second base. Byrnes gets to play ball, have a good time, and get paid for it. And the D-Backs? Well, they're still out almost $11 million. But it goes without saying that they never come out winners.