In sports, everyone is a winner-some people just win better than others. Like the MVSU Delta Devils, who will play their entire nonconference schedule on the road, because the program really really needs the appearance fees.
Mississippi Valley State is, how can we put this...not very good. Two years ago they scored the fewest points in an NCAA Tournament Game since 1946, and that was the high point of the decade. The past two seasons they've gone 16-48, and that's not going to improve. They open the season with a traveling show, a cupcake team in a cupcake conference hitting the road to some of the bigger programs in the country.
That's 13 games, almost 13,000 miles, and matchups with teams like Indiana, Butler and Kentucky. Why? Money, of course.
College football isn't the only sport where teams will schedule guaranteed home wins, to avoid getting knocked out of the Bowl picture early on. But those easy wins don't come cheap. MVSU will make nearly $700,000 in appearance fees for their Washington Generals tour.
It's tough on the kids to go to most of the toughest places in the country to play, but I know what we need to survive as a program," coach Sean Woods said. "I've got to bring in a certain amount for the university and then I need a certain amount to get my program through the year. In order to do both, I've got to do a schedule like the one I put together."
G/O Media may get a commission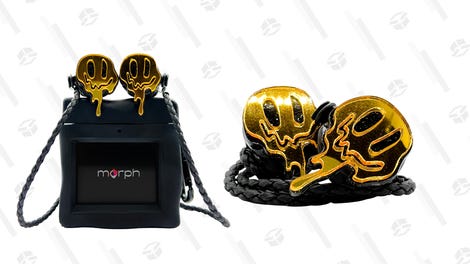 morph audio
Morph Earphones
The program's in a bind. Money is so tight that they may not be able to fix a leak in the school gym in time for the start of team practice. But while MVSU may have the budget and talent of a D-II team, the school relies on the money brought in to help finance all the other sports. So the Delta Devils will be traveling, and losing, for the foreseeable future.
A brutal schedule awaits cash-strapped Mississippi Valley State [Yahoo]